Even though 1 in 5 firms still don't have a website for ecommerce sales, almost one in five pounds pulled in by UK business came through an online sale, the Office of National Statistics has found.
Nineteen per cent of UK sales revenues came through ecommerce sales, states the ONS's report on E-commerce and ICT activity in 2011. That means that e-sales pulled in £483 billion to the British economy in 2011. Ecommerce as a percentage of total UK sales revenue has crept up from 18 per cent in 2010.
Website sales to consumers were 5 per cent of total turnover in 2011, with the rest attributable to sales to business. The sector making most use of e-sales was Wholesale, which netted 31 per cent of online sales pounds from consumers, and 40 per cent of the UK's online sales revenue from business.
The manufacturing sector was making strong use of e-commerce too – taking 40 per cent of e-sales to business.
When it came to online consumer pounds, Britain's information and communication industry performed well, pulling in 16 per cent of the total pie. Retail took 14 per cent, Transport and storage took 10 per cent.
The construction, food and accommodation sectors saw the lowest percentage of their sales come through the internet.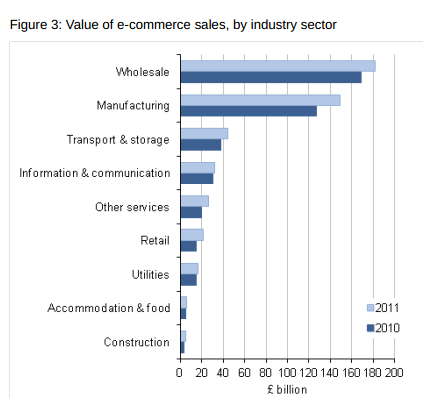 Value of ecommerce sales to different sectors, from the ONS 2011 report
The UK keeps its position as one of the most ecommerce-centric countries in Europe. In 2010 data the UK is joint fifth with Norway for penetration of ecommerce. Behind Finland, Sweden, Hungary and the Czech Republic at the top of the list, where 25 per cent of sales are conducted through the internet.
The ONS also found that 93 per cent of businesses had broadband internet and 81 per cent had a website.
The largest businesses nab the bulk of ecommerce sales: those in the 1000 or more employees bracket. In 2011, these businesses made up almost half (46 per cent) of all ecommerce sales.
If you would like to sell more online, contact AIM now.