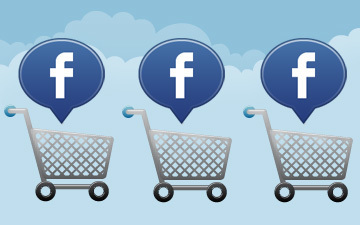 Facebook's gravitational pull of 750 million users is enough to hold digital marketers spellbound. Once they get past the sheer size, they find that Facebook also offers unique and nuanced selling opportunities amidst difficult obstacles.
First off, Facebook users have better things to be doing. The average Facebook user is connected to 130 Friends and 80 interest groups and makes his or her preferences known through rich profiles and by posting 90 pieces of content per month. Facebook users spend 700 billion minutes per month in an active, relaxed environment where word-of-mouth is built into every turn. The traffic, of course, also matters. Compete found that large brands like Coca-Cola are getting about 11% of their unique visits through Facebook Pages.
Selling on or through Facebook now has a name: Facebook commerce. As with most aspects of social media, it does not yet live up to the potential that many foresee and it has no problem finding both strong advocates and cynical detractors. In this post, we'll break down the ins and outs of this digital buzzword. Let us know what questions you have about Facebook commerce in the comments below.
Four Types of Facebook Commerce
1. Facebook-Facilitated On-Site Selling:
Brands can bring the Facebook experience to their websites, tapping users' connections and interests to support the purchasing process. The simplest examples involve using social plugins— short code snippets that ping Facebook's network for information about the user visiting the brand's site. The Like Button is the most common plugin and is usually regarded as a content sharing device, but when it is used in conjunction with a product page it can provide peer support by displaying the names and profile images of people who have Liked the product — most appealing for brands is the fact that it also highlights any of the user's Facebook friends who have Liked the product.
A more sophisticated approach uses Facebook's Open Graph API to retrieve the Likes and interests of the user, as well as those of his or her friends. There is a permission screen involved and every friend's privacy settings are individually respected.