Manufacturing Links In The Black Country
 . . at manufacturing locations,events designed by manufacturers for manufacturers
(Thursday, 26 Sep 2013 08:00 – 11:00)
8.00am – 11.00am
Free to Manufacturers – Limited places
Manufacturing Links in the Black Country is a group which is designed to specifically meet the needs of member Small to Medium manufacturing companies.  The events are held at SME manufacturer sites or at the venues of providers who support the sector.  The format and agenda is decided by a steering group of manufacturers.
Social Media for Manufacturers – Practical skills
Sarah Whitticase, AIM Internet – Due to demand Sarah returns to explore Social Media in more depth, bring username and passwords for Linkedin, Twitter and Facebook and a PC will be provided so that you can try at the same time.
Steering Group:-
Kevin O'Toole (Chair) – Eurocraft Enclosures – kevin.otoole@eurocraft.co.uk
Ian Wiles – Ace Forming Ltd – ian@ace-forming.co.uk
Allan Jones – Apton Partitioning Limited – ajones@apton-partitioning.com
Karen Hughes – Harco Engineering Ltd – karen@harcoeng.co.uk
Stephen Lane – Rimstock Plc – slane@rimstock.com
Martin Dudley – Thomas Dudley Limited – mdudley@thomasdudley.co.uk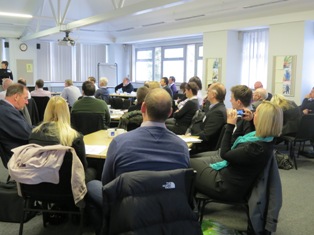 VENUE: GTG West Midlands, Bearing Drive, Steelpark Way, Wolverhampton WV11 3SZ
FREE for Manufacturing Companies to attend only
---