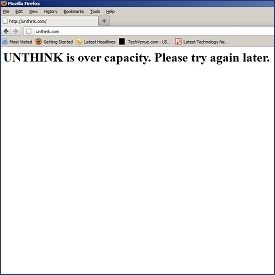 Look out, Mark Zuckerberg—there's a new Facebook killer in town! Of course, the town is 2,800 miles away from Silicon Valley and the social networking upstart hoping to topple you from your throne is only in beta.
Unthink, launched Tuesday for beta testing out of Tampa, Fla., bills itself as the "anti-Facebook,"according to TechCrunch's Sarah Perez, who, unlike us, apparently succeeded in givingUnthink.com the once-over before the site got self-DDoSed via publicity from, well, TechCrunch et. al.
So what exactly is Unthink? It's more about what it's not, according to TechCrunch. This is all laid out in various Unthink manifestos that the site doesn't have the capacity to show us at the moment.
From what we can gather, the main thing Unthink wants you to know that it is not, is Facebook. In fact, "taking down Facebook is the core of Unthink's marketing campaign," Perez writes. And the main way that Unthink is distinctly unFacebookish is that it's all about the users of the platform being the owners of the stuff they create on it, rather than the gullible engines of Zuckerberg-enriching that some people (like Unthink's creators) claim Facebook's 800 million users are.
Unthink founder and CEO Natasha Dedis has some novel ways of letting users "own" their Unthink profiles and the site's also got a pretty compelling origin story.
The origin story first. According to Perez, Unthink's CEO was caught in a bind when her son wanted to join Facebook—had to join Facebook or be judged a social misfit by his peers, in fact. The trouble was, Dedis was one of the few people who actually read Facebook's terms of service, and she found the site's reserving of the right to changes those terms when it pleased disturbing. She didn't much like the way Facebook bundles user data to sell to companies for targeted advertising, either.
Because Dedis also didn't want to deny her son the ability to digitally socialize with his schoolmates, she set out to create a social networking site that she wouldn't mind her son being on. Which is sort of like a parent who doesn't like what's on TV starting her own production studio and cable channel, if somewhat less cost-intensive.