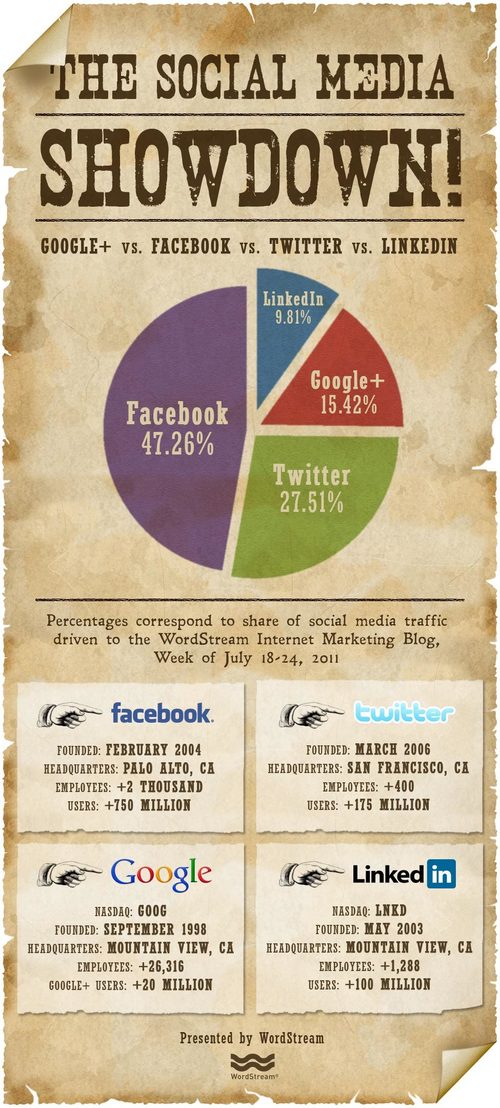 Boston based Wordstream has just conducted an awesome study to find out if Google+ was worth the effort from a marketers perspective. As a result of the study they ended up conducting a social media showdown and putting the top four social networks against each other.
To compile the results the company took a sample of referring web traffic from their blog. The sample happened to occur during an extremely high week of traffic with over 1 million uniques, half of which came from these four social networks. A worthy sample size, yes.
The results are awesome and little surprising. Check out the excerpt and infographic of the study.
Here is an excerpt from the study:
"Google+, despite only being around for 1 month – and even then, being released in a limited "field testing" mode, drove more traffic to our blog than LinkedIn – it was roughly a third of our Facebook traffic and over half of our Twitter traffic. This was a huge surprise given how many Facebook fans and Twitter followers we've accumulated over the last several years, and given that at the time of this writing, I don't even have a company presence on Google+ yet, or any Google +1 buttons on our website. (Though plans are in the works for both!)"