What The Coronavirus (COVID 19) Means For Marketers
At AIM Internet we work with businesses across many different sectors and we are already seeing the impact this is having on the marketing industry. So we want to share what we've learnt and offer some guidance for anyone experiencing changes to their marketing during Covid 19.
Coronavirus or COVID-19, has been declared a global pandemic by the World Health Organisation. Sadly, this is just the beginning and the hard truth of the situation is that it will continue to spread quickly, impacting individuals and businesses for the foreseeable future.
The UK alone currently has almost 2,700 coronavirus cases with that number growing at an unprecedented rate each day. 
Now what we are faced with is a period of uncertainty, both with regards to public health and the economy. According to Google, "since the first week of February, search interest in coronavirus increased by +260% globally." A spike in search trends is common during events with such global impact, but there have also been increases in traffic for products related to and in response to the pandemic.
On top of the staggering health figures the economy has been affected in a way no one would have thought possible just two weeks ago. Covid-19 has caused the global stock markets to plummet, meaning as a business (and marketer) you will inevitably be affected.
It's Time To Stand United
Times of crisis are when we also see the best of humankind, people come together and work together to survive the situation. It's often in times of great despair that we experience great joy through small acts of kindness from our peers. It's important that we continue to be kind and not exploit people's fears. A long term plan to preserve your business is far better than making some quick cash by selling basic human necessities at triple the cost. 
Everyone is suffering so don't add to an already devastating situation. 
(Most) Businesses Will Be Impacted
There's no sugar coating the fact that businesses will be affected in the short-mid term. The tremors will likely be felt for well over a year as businesses struggle to overcome the impact of the coronavirus outbreak. 
As China celebrates the closure of their last Coronavirus hospital they still face the economic aftermath with retail sales dropping by 20.5% and the unemployment rate jumping to 6.2 in February. This is an alarming figure because China retail sales growth is almost always positive.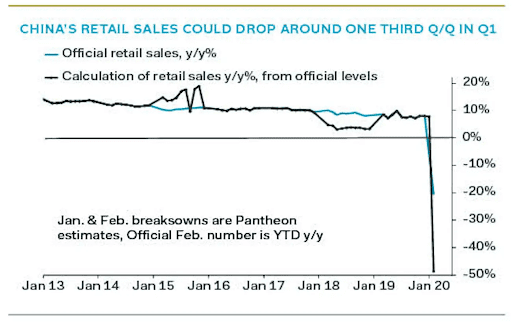 Source: Pantheon Macroeconomics
Large companies such as Apple and Zara are closing their stores to help prevent the spread, but this has huge repercussions on income and profit. These are the 'lucky ones' who are able to pay their employees during their temporary closures, sadly, not all companies are able to bank roll this and jobs have been, and will continue to be lost. Many businesses are even asking their staff to take extended unpaid leave just to survive. Of course, this has consequences on the individual and them being able to meet their financial commitments. 
The World Travel and Tourism Council has warned the COVID-19 pandemic could cut 50 million jobs worldwide in the travel and tourism industry. This will have a devastating impact on the economy as the tourism industry currently accounts for 10% of global GDP.
Perhaps more staggering is that it is estimated that COVID-19 will cost the global economy a total of $2.7 trillion. 
Naturally, this means a drop in traffic and conversion rates for most industries. 
You Are Not Alone 
One thing we have learnt since the coronavirus outbreak is that you are not alone. We work with clients across a broad range of industries with each and every one being affected. 
Industry leading marketer, Neil Patel took a global look at traffic statistics, focusing on sites with over 5000 visitors a month. Here's what he found: 
This graph compares last week to the previous week and shows a huge drop in organic traffic.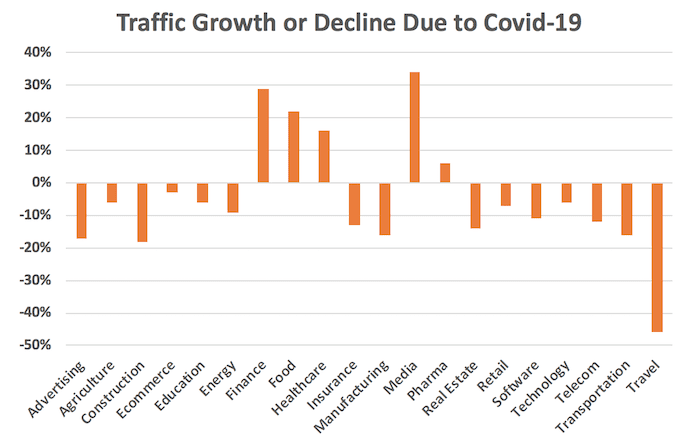 Source: Neil Patel
As you can see, the news and financial industries experienced a huge spike in traffic whereas the travel industry experienced damaging lows in the number of traffic. E-commerce isn't quite that simple. The global pandemic is expected to favour some ecommerce businesses as a result of mass lockdowns and self-imposed quarantines. Not surprisingly, Chinese online retailer www.JD.com experienced 215% year-over-year growth in online grocery sales during a 10-day period between late January and early February. 
The product offering you have will largely determine your continuation of traffic and conversion. For example, if you sell toiletries and baby products you have probably seen an increase in traffic. However, if you sell luxury items such as cars it's very likely your traffic dropped as people generally tighten their belts in times of uncertainty. 
Conversions Have Dropped (Even In High Traffic Industries)
According to further research by Neil Patel, most industries saw a decrease in conversions. Including the financial sector which as we know, saw increased traffic. 
Take a look at the chart below that compares last week to the previous week: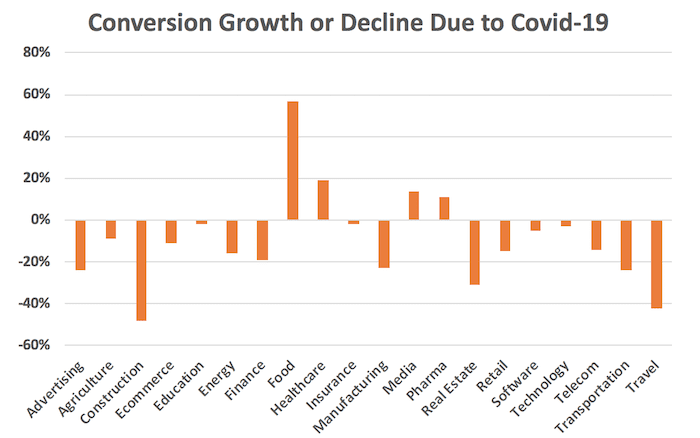 Source: Neil Patel
News outlets on the other hand had a boom in conversion as many of them charge for the most up-to-date information or for access to full articles.
For example, you can only read the opening paragraph from Fortune for free until the following message pops up: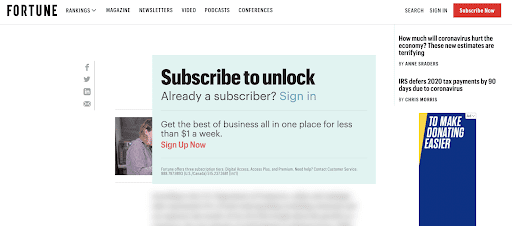 The Financial Times also requires a subscription in order to access their content.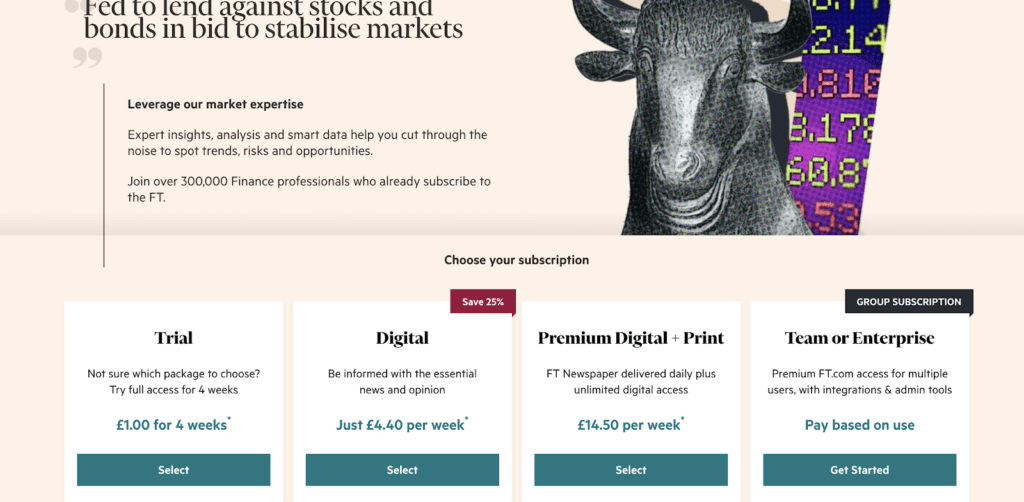 In a global pandemic it makes sense for people to want to access all the information they can, even if that means paying for it. 
Pay-Per-Click Data
So far, pay-per-click hasn't seen any drastic changes or drops in CPC. The only big difference is cost per acquisition. Similarly to the above, your product offering will hugely determine your current cost per click. If you sell toilet roll you're probably seeing a far better return than if you sell travel.
So How Does Marketing During COVID-19 Effect The Industry? 
Experts predict that we will now go into a recession following a global hit of 2.7 trillion dollars. 
Do not panic. 
Don't make any knee-jerk reactions when it comes to your marketing operations. Doing so can set your business up for an even steeper uphill battle to recover. Carefully consider your options and discuss them with your marketing team. The best time to invest more (not necessarily financially) is when others are not. This will give you the advantage when business resumes as usual. In times of economic strife there is far less competition. This means you will see results not only quicker but probably at a lower cost too. You could be looking at lower pay-per-click advertising, reduced rates and a better ROI. 
It is essential that you maintain at least some level of marketing investment during the Covid-19 pandemic.
As a business, you may not be able to afford paid advertising right now. However, SEO and inbound marketing during Covid-19 are a long game. 
Much of your competition is going to disappear in the coming months be it as a result of bankruptcy, being bought out or being bailed out by the government. This is a business opportunity. The less competition out there, the better your odds of success. 
So as cut throat as it might seem, when you see your competition slowing down that's the time to ramp up your own marketing efforts. SEO marketing, organic growth and inbound marketing is where you'll see long term results.
As the world recovers, you'll experience a growth in revenue and a boost in ROI from your marketing spend. 
Conclusion
The scary aspect of the coronavirus pandemic is that with nations on lockdown and people isolated at home it isn't just a temporary lack of consumer demand. It's also a lack of raw material and workers that generate revenues and profits in the first place.
But that is exactly why now is the time to accelerate your marketing efforts, you need to strike while your competitors are laying low. 
Marketing During Covid-19 | Keep Checking In
Sadly, COVID-19 is affecting the health and wellbeing of people worldwide. Therefore, keeping ourselves and others safe should be our first priority. Many, if not all, businesses are already feeling the impact of the virus. Staying up to date with information is the key to staying afloat.
Here at AIM Internet we are putting people first as we continue to provide our services remotely. We will remain on top of the situation and markets in the coming weeks, in order to pass this information on to you. 
For any questions regarding your marketing strategy during Covid-19, please contact info@aiminternet.co.uk.