Remarketing
It is a method of connecting with people who have previously interacted with your website (or app).
Learn More
Contact Us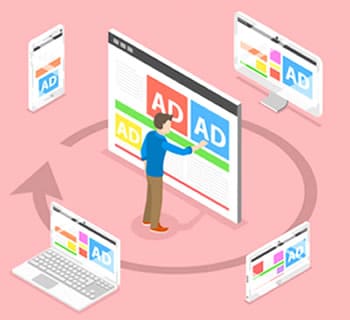 Remarketing Works
This marketing strategy allows you to strategically present your ads in front of these audiences as they browse the web elsewhere. This helps build your brand awareness and reminds visitors to return to make a purchase.
Interestingly, 96% of visitors that come to your website are not ready to buy, that's a scary statistic for marketers.
4% Of First Time Visitors Are Likely To Buy
This means that only 4% of traffic is likely to buy from you the first time they visit your website. That is a huge audience you're losing out on. However, there is one solution you can use to bring back lost visitors – remarketing campaigns.
It can be an excellent way to increase your lead generation efforts and boost conversion rates. Therefore, knowing what remarketing is and how it can help your business is important.
2-4 % Result In Transactions
The first thing to understand is that not everyone who comes into contact with your business will buy from you. In fact,
only 2-4% of site visits result in transactions
.
Subsequently, you need an effective strategy to position your products in front of your audience repeatedly, until they're inclined to take action. Hello remarketing.
AIM Internet
A Remarking Agency Based In Birmingham
We have many years of experience in helping clients increase conversion using remarketing as a strategy. From Google remarketing, Facebook remarketing and CRM /list based remarketing we understand the impact each one can have on your business.
What is Remarketing?
Remarketing is a broad term that describes the process of promoting your products to prospective customers, who have already visited your site. This can be an effective marketing strategy both online and offline.
For example, a user who has previously visited your site, might be enticed back after repeatedly seeing an advert (whilst browsing the web elsewhere) for a product they clicked on during the time on your site. This is online remarketing, also known as retargeting.
Online remarketing involves adding a script to your web pages that captures data whenever a visitor browses your products or services but doesn't complete an action. After that, the cookie then follows them around the web presenting that product or service to them until they return to your site and convert.
This is very similar to how offline remarketing works. Offline remarketing includes adverts through billboards, phones, emails, and social media networks.
It improves sales conversions and raises your brand profile. It's a way of showing adverts to people who have visited your website but who didn't complete a desired action. That action may have been making a sale or submitting an enquiry form, for example.
Instead they disappeared off into the internet ether, potentially never to be seen again.
Or at least that used to be the case. Having remarketing campaigns allows you to market to those people again.
What company wouldn't want to be able to reconnect easily with their website visitors. After all, they came to your site because there was something of interest to them. They are the "i'll have a P please Bob" which every company wants… prospects!
It can seem a little creepy to some, but remarketing is an effective way of advertising online. It works by websites using a piece of code, a cookie, to track visitor actions.
Ever been on one site, left it and then noticed an advert on a different website for the one you were on earlier? That's a type of remarketing in action.
As part of your whole digital marketing plan of action, it's a very important strategic step.
It can help you drive sales activity, increase registrations or promote awareness of your brand, making it a worthwhile component of your advertising.
You may also hear remarketing referred to as retargeting.
In a Nutshell, Here's How Remarketing Works:
You get traffic (visitors) to your website
Visitor leaves
They goes to other websites and sees an advert for your product or service
But the visitor returns to your website
Your remarketing adverts get placed on a network of websites and social media sites.
Google Adwords, Facebook, LinkedIn, Twitter & YouTube are examples of places where you might see them.
If they haven't turned off cookies, past visitors to your website will see your adverts whilst they are browsing other sites on the web. For example, a key buyer from one of your target industries might be reading an article on an industry related news site. They are scrolling through and, hey presto, see your advert.
Increased familiarisation helps to foster brand affinity. Greater brand affinity decreases buying friction.
When people are already familiar with your brand, they are much more likely to become customers or to complete other valuable actions on your website.
The ads act as a reminder in the same way regular offline ads would. By keeping your brand top-of-mind they entice visitors to come back for more.
But is Remarketing Beneficial to Your Business?
Yes, it is. Take a look at the benefits below.
It Helps To Better Profile And Understand Your Audience:
A remarketing campaign can allow you to develop your audience persona based on who visits your websites and the steps they take whilst there. This can be the pages they visit, what they engage with or what they click on.
You can use this information to tailor your marketing campaigns specifically to them. As a result, you will see a positive impact on your return on investment.
It Can Also Broaden Your Reach:
Remarketing allows you to reach out to more potential customers. Google's display network has over 2 million websites and apps, which instantly gives you access to a huge aka, potential customers.
Facebook remarketing also allows you to reach many potential customers. So, remarketing definitely increases your reach.
Reduces Your Advertising Spend:
A remarketing ad is very cost-effective, the reason being you know the audience you are presenting to has previously shown interest so this greatly improves ROI.
Additionally, you only pay if the user clicks on your ad so it doesn't cost the earth to reach your target audience.
Increases Your ROI:
As mentioned above, based on each visitor's actions you can tailor your marketing campaigns to their interests. This makes it easier than ever to display relevant ads to them and drive them through the sales funnel. Until eventually, they are ready to make a purchase.
A remarketed audience is way more likely to convert. According to Wordstream, remarketing ads are 76% more likely to be clicked on than a random display ad. Perhaps more interesting, is that can increase conversions by 51%.
Increases Brand Awareness:
With so many online businesses these days, it is very easy to forget brands.
But with Google remarketing and Facebook remarketing, you can ensure your brand stays in the forefront of a users mind as they will continue to see your ads wherever they go online until they take action.
Super Targeted:
Remarketing allows you to set almost any targeting criteria.
There are three common ways you can remarket your audience – they include Google remarketing, Facebook remarketing and CRM/list based remarketing.
AIM Internet + Remarketing = Profitable Business Growth
We Cover All The Bases You Want Us To When It Comes To Who To Target.
At AIM Internet, as a remarketing agency in Birmingham, we will create highly targeted campaigns that increase the relevancy of your ad. As a result, your ads get seen by the people who are most likely to click on them and convert.
We Use Our Extensive Marketing Expertise To Advise You And Develop Your Campaigns.
AIM provide regular reviews and insights into your remarketing campaigns.
At AIM Internet, A Remarketing Agency In Birmingham, We Manage Costs So That We Maximise Your ROI
At AIM Internet, a remarketing agency in Birmingham,  knowledge of remarketing is key. It is why companies in Birmingham, the West Midlands, Worcestershire, Shropshire, Herefordshire & the Wyre Forest have used us for years to help them grow their businesses.
Working with an agency that understands how remarketing fits into making your overall digital marketing strategy a success is essential to you achieving your business goals.
The best part? You just found that agency.
Popular Remarketing Strategies
Online Remarketing With Google:
Google remarketing also known as Google display network remarketing (Google Ads) allows you to strategically position your ads in front of people who previously interacted with your website or mobile app.
As they browse the internet – whether it's online shopping, watching videos on YouTube or catching up on news —your ads will appear. The biggest benefit of Google remarketing is that the Google display network is huge. It reaches about 90% of people on the internet, and you can reach 9 out of 10 of the customers using Google remarketing.
How Google remarketing works is by adding a piece of code to your website. This code tracks the journey your visitor takes whilst on your site, then the browser cookies add them to your remarketing audience. The code can be added to different pages of your website.
Online Remarketing With Facebook:
Facebook remarketing is very similar to Google remarketing in that it allows you to create remarketing ads to target your website visitors.
Facebook remarketing works by placing the Facebook pixel on your website. When a visitor comes to your website, it adds them to your remarketing list. You can then target that audience with relevant ads on Facebook. The ads will be displayed in their news feed as they browse.
Facebook remarketing offers you various targeting options, such as targeting the users who visited a specific page. A focussed retargeting campaign will deliver far more bang for your buck as it will display ads to people that are likely to convert.
Facebook remarketing is also affordable.
CRM / List Based Remarketing:
A third option for remarketing your audience is through your email list. CRM remarketing works by uploading your customer's email addresses to your remarketing platform of choice such as Facebook. Then, you create targeted ad campaigns, which Facebook will display to the users whose email addresses you uploaded.
Uploading the email list manually can be complicated and time-consuming however, there is software out there to assist with the upload and save you time.
You can use the software to sync your CRM with Facebook so you can automatically upload your customer list to Facebook. Additionally, such tools will also keep your CRM list updated as new customers subscribe or unsubscribe. This offers you an automated funnel between Facebook and email.
Take A Look At Some Of The Information You Can Leverage To Convert More Sales Using Your Website Or CRM Data:
Products Bought
The first data you can use to remarket your CRM/email list is the products previously bought. A customer that has purchased before is more likely to buy something from you again. In fact, research shows that after a person has bought once from a company, there is a 27% chance of them returning to make a second purchase.
And one step further, a customer who buys a second time from your company, is 54% more likely to buy a third time. Remarketing is so effective because repeat customers are 9 times more likely to convert than a new customer.
The data you collect can be used to create ads that will target complementary or similar products or services.
Purchase Behaviour
Additional data you can use to remarket your email subscribers through Facebook remarketing is purchase behaviour. For example, if you sell subscription products (SaaS), you may offer a free trial.
After the trial period is over, you can create campaigns that target those who didn't sign up. You can also create remarketing campaigns for upselling purposes, for example, for users who have been on a lower plan for a long time.
Customer Lifetime Value
Customer lifetime value (or life-time value (LTV), is the average amount of money your customers will spend on your business over the entire life of your relationship.
This is important because it tells you how well you're resonating with your audience, how liked your products or services are by your customers, and what you're doing right — as well as how you can improve.
An example of this is a customer who makes a monthly purchase from you will have a higher LTV than one who makes a yearly purchase.
Interest In Your Product
Finally, the best data you can use to convert visitors into traffic is capturing who has already shown an interest in your products or services. This is the most effective way to use remarketing through Facebook remarketing or Google remarketing.
For example, if someone has clicked on a product and spent time on that page, you can create ads that display the same product but perhaps offering them a discount or a reason to return to complete the purchase.
AIM Internet
A Remarketing Agency In Birmingham
Now that you know what remarketing is, why not get in touch with one of our remarketing experts. At AIM Internet, a remarketing agency based in Birmingham, we can show you how to drive strong business growth, through remarketing campaigns for your company.
We work with you to understand your market, your business goals and use our knowledge to create incredibly targeted remarketing campaigns to help you achieve them.
Do you want to target visitors who went to a competitors website? All Done.
Want to target visitors who went to a specific product page? Sorted.
How about targeting visitors who went so far as your enquiry page but didn't submit anything? Done.
Remarketing Agency In Birmingham
With 21 years as digital marketing experts, AIM Internet a remarketing agency in Birmingham are a step ahead. We understand online marketing can seem scary. Intangible even. Which is why we use a straightforward proven test-and-measure approach.
If you'd like to ask our clients why they use us, and in some cases have done so for the last 21 years, we'd be happy to put you in touch. We guarantee that if you speak to us your business will benefit, one way or another – so what have you got to lose?
Find out how our expertise as a leading remarketing agency in Birmingham and the UK, could help your business grow, today.
Ready To Grow Your Business Faster?
Get In Touch Today