Why Work With A PPC Agency?
PPC Helps You Get More Customers To Your Website, Fast.
With increased and more relevant visitors you'll improve ROI, Guaranteed.
Learn More
Contact Us
But What is PPC?
PPC = Pay-per-Click. Or, to be accurate, Pay-per-Click advertising. You may also have heard PPC referred to as search engine marketing (SEM).
It's a form of advertising on the internet which brings targeted traffic to your website. It sits within the whole digital marketing puzzle.
PPC is an important piece of the jigsaw and another means of helping secure online success. It's one of the fastest ways of getting seen by customers at the moment they are searching for the things you offer. That's why working with an agency, such as our PPC Agency in Birmingham, can help!
Try Our Free Beginner's Guide To PPC
PPC, in essence, is a way of buying visits to your website.
You pay a network to show your adverts to targeted traffic online. We discuss this in a bit more detail below.
It differs from SEO where you "earn" traffic organically using optimisation techniques. Both are equally important in your whole digital marketing mix.
Done right, it can:
Supercharge your website traffic
Grow your sales or leads fast – by delivering the right customers, to the right page of your website, at the right time
Give you outstanding ROI.
You (the advertiser), pay a publisher to display your digital advert on their network(s). When someone clicks on that advert and gets sent to your website, you pay the publisher for that click.
Have you ever placed a newspaper or magazine advert? The principle is the same. Provide an advert about your product or service to a publisher who, for a fee, displays it on your behalf.
Except, now the publishers are PPC networks and "newspapers" are:
– Search engines
– Individual websites
– Whole networks of websites
– Some social media sites
What's more, rather than paying up front, you only pay when someone clicks on your advert.
Paid search advertising (placing adverts on search engines) is the most common type of PPC.
Google Adwords is the most popular paid search platform network.
Therefore, we focus most of our PPC efforts for your business here. Doing so ensures you can capitalise on the great traffic opportunities it presents.
As a PPC agency in Birmingham, we always approach each company we work with on a case-by-case basis. And therefore, tailor our strategy to your niche. Hence, we also make sure we use a mix of other available PPC networks to ensure we are targeting your audience best. In the Google search network, paid listings look like the image below. Recognise them now?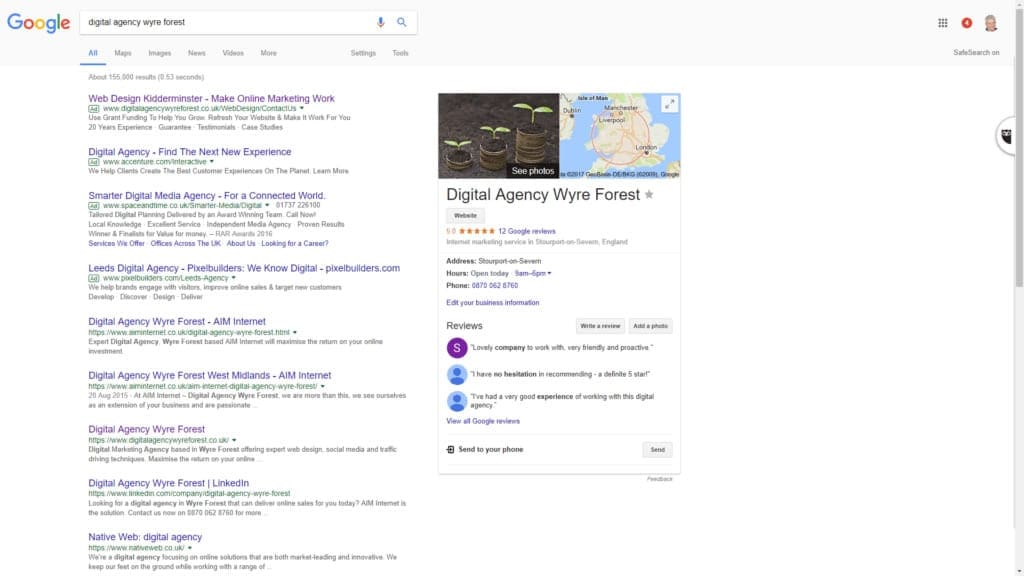 These adverts are shown when someone searches for a keyword related to your business. At the most basic level, if you have adverts with keywords relevant to that search query, Google displays them. There are other factors which Google takes into consideration (we can help you understand these too), but that's the long and short of it.
Did You Know The Top 3 Paid Advert Spaces On Google Get 41% Of All The Clicks On The Page?
The above stat gives some clue to why PPC is such an important part of your digital marketing game plan. Even if you focused every effort on an outstanding SEO strategy, it wouldn't matter how high you ranked on the page. 41% of searchers still wouldn't see your content based on a natural search query!
Since every search query represents an opportunity to businesses and brands to fulfil a user's need, implementing PPC in your digital marketing gives you more scope to be the solution to that need.
What If My Budget Won't Be Enough To Compete With The Big Brands?
You know your business and niche. We use our expertise to work with you to target that niche effectively. Competition for visibility online is fierce. PPC helps you claim your place in the online noise.
At AIM Internet, PPC agency based in Birmingham, it is our knowledge of PPC that stands out. It is the reason why companies in Birmingham, the West Midlands, Worcestershire, Shropshire, Herefordshire & the Wyre Forest have used us for years to grow their businesses.
Working with an agency that understands the intricacies of PPC is essential to running profitable campaigns that achieve growth & ROI. Working with an agency that also understands how PPC fits into a wider digital marketing strategy is also essential.
The best part? You just found that agency.
The Benefits Of PPC Advertising As Part Of Your Digital Marketing Strategy
In short, PPC helps you grow your business faster. It's as straight-forward as that.
PPC is:
Predictable – visitors are directly linked to how much you spend, more spend = more visitors
Fast
Easy to scale
Less influenced by search engine algorithms (which impact SEO tactics)
Quicker than any other online promotion for delivering profits & ROI
Budget friendly – spend as little or as much as you like
Benefits Of Doing PPC With Us
We've been running PPC campaigns for years. When you work with AIM Internet, we will help your business to:
Reach your target audience at the right stage in the buying cycle, putting your product or service in front of them at exactly the right moment
Achieve outstanding ROI
Increase profits and grow your business using our proven methods
Integrate your PPC campaign into a wider digital marketing mix
Use our extensive board-level, strategic marketing knowledge to ensure your PPC campaign supports your overarching business goals
Have regular reviews – work closely with you to manage budget and strategy through regular reviews, advising and adjusting the approach accordingly
Increase brand awareness
Generate more leads and sell more online, more profitably
With 21 years as
digital marketing experts,
AIM Internet is a step ahead when it comes to PPC Birmingham. We understand online marketing can seem scary. Intangible even. Which is why, we work closely with you, using a straightforward, proven test-and-measure approach.
We'd be happy to put you in touch with some of our clients and you can ask them why they use us, as a PPC Agency Birmingham, in some cases, have done so for the last 21 years.
We guarantee that if you speak to us your business will benefit, one way or another – so what have you got to lose?
Ready To Grow Your Business Faster?
Get In Touch Today