If you aren't using digital marketing to drive your business growth, let's discuss why you should.
Digital marketing is an excellent opportunity to broaden your client base, increase growth and drive ROI.
Contact Us
Our Free checklist will show you how to ensure your marketing is effective
Please leave your details first and then we'll get you your checklist.
Why do manufacturing and engineering companies need marketing?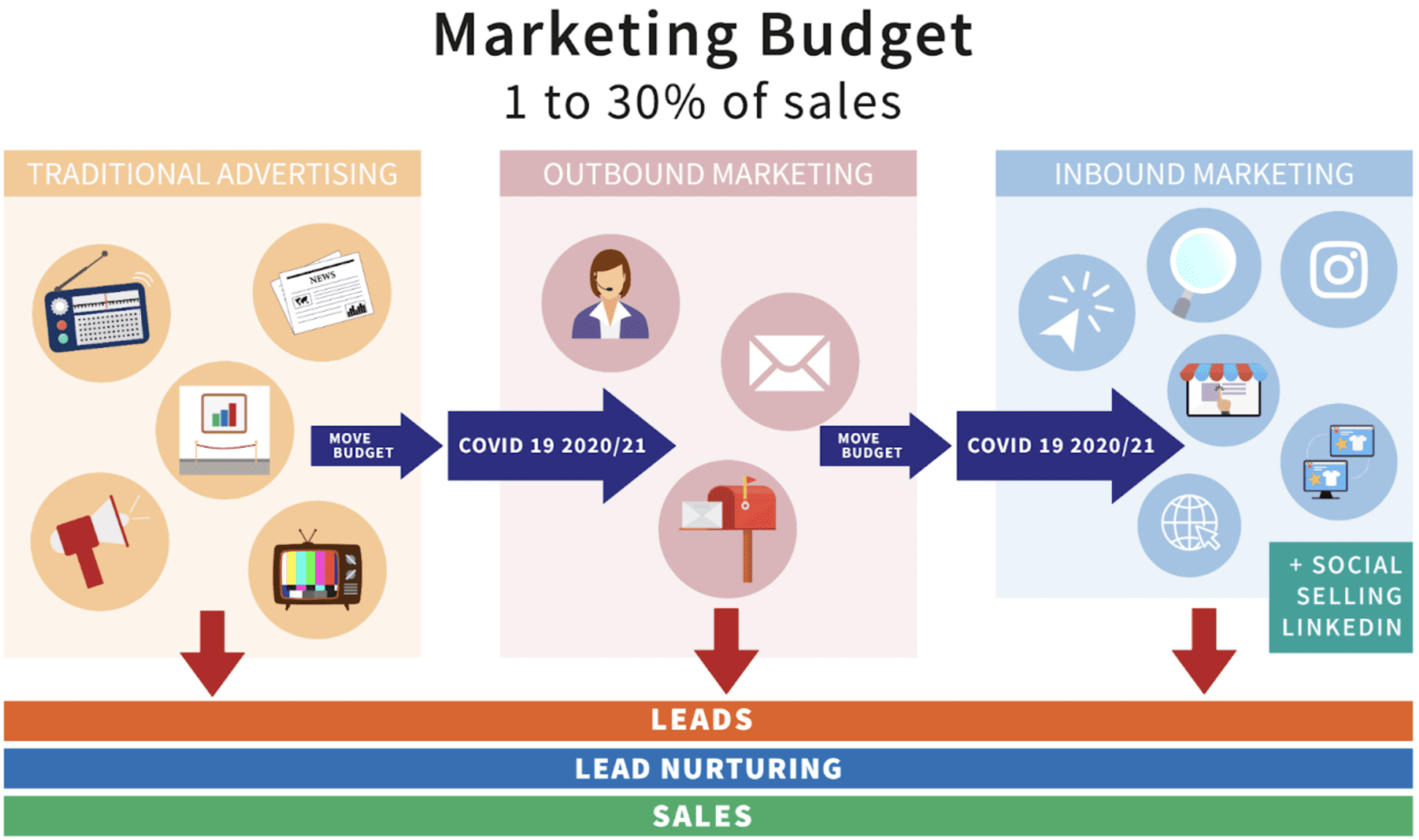 Global manufacturing has experienced a boom in recent years. This can be attributed to improvements in collaboration and data sharing platforms or the rise in the amount of money spent by the sector on aggressive marketing initiatives.
By 2020, the epidemic and lockdown had severely hampered the conventional marketing approaches that manufacturing and engineering companies often used, such as expos or trade shows.
State of Digital Marketing for Manufacturers‍
According to a Statista survey, COVID-19 had the greatest impact on the manufacturing sector. As a result, businesses that had previously avoided the digital market have been abruptly forced to enter it.
Output, supply, and, increasingly, marketing initiatives will all play a significant role in the path back to profitability.
To acknowledge something, however, is one thing. To act on it is quite another.
How does digital marketing future proof your business?
Due to this recent development, the manufacturing sector is now far behind other sectors in terms of digital marketing. Despite this digital transition, a benchmark report for digital maturity for 2021 reveals that businesses engaging in digital marketing activities still lack a clear digital marketing plan.
On the plus side, depending on your market or product, manufacturers and engineers who take the digital marketing initiative now will still be ahead of the game.
However, in order to attract new clients in today's market, it's time to abandon old methods and use fresh tactics. Luckily enough, there are plenty of digital marketing channels that support these industries, including LinkedIn generation, SEO, Google Ads, social media marketing, blog content strategy, and more.
How can digital marketing help manufacturing and engineering companies?
Lead generation is the most difficult issue for most businesses, with 40% unable to achieve a satisfactory ROI.
This is even more complex in manufacturing and engineering as it requires communicating your message with a certain level of expertise in a way that connects with your audience.
In order to execute an efficient content marketing and lead generation plan, you must first identify your target clients' pain points and buyer journey, while connecting with them in a (technical) language they understand.
You'll Need to Know:
It is up to you to determine who your target audience is.
Which keywords to use (which keywords your audience will use)
What your ideal audience's pain points are
How can you solve their problems?
What types of content will they engage best with?
What is your margin?
From our end, AIM Internet has been helping SME's and entrepreneurs with their business growth strategy for over 20 years. So we have learnt a thing or two about what works when it comes to growing your business.
Our proven 7-step formula never fails.
1.Implement a measurement and KPI process
KPIs set benchmarks to measure progress to achieve strategy. Without KPIs, you risk losing focus, not achieving strategic objectives, and not being able to demonstrate or measure your value.
2. Determine your company's gross margin by product or service.
As a general rule, the higher your gross profit margin is, the healthier your business is, so it's a key factor in determining and managing your business' health.
3. Audit your online presence to ensure it reflects the margin of your business.
The digital world is moving fast, so if you don't take pause to monitor your online presence from time to time, you can get left behind very quickly.
4. Assess your competitors online.
Growing your business without understanding your competitors is a dangerous game. We will help you benchmark your current arrangements against the market and other companies. This will help you see where opportunities lie and where you're potentially wasting your time and money.
5. Set up a website visitor/traffic generation programme.
It can sometimes feel like you've tried every method out there to increase your website traffic. The key, as with most things, is to strategise, analyse, and implement using all of the data available to you.
6. Test and measure conversion.
Testing allows you to measure the performance of your marketing campaigns. Conversion testing allows you to get a real reading on whether the change you implemented had a positive impact on your business. Data like this is invaluable when it comes to driving growth with a cost-efficient strategy.
7. Set up an online remarketing programme and email your customers regularly.
In order to get visitors who started an order to come back to your website and complete their order, you need to engage in email remarketing. Remarketing is a technique that is used to follow up with a website visitor who engages with your website but leaves before taking action, such as completing an order. Email is the perfect platform for this.
By putting these 7 steps into action, we can help you generate consistent growth.
How much do you need to invest to Increase sales and ROI?
If you hurry, we can save you money. Finishing in September 2022.
Manufacturing businesses can benefit from 33% towards one or two £4-5k marketing projects. In addition, manufacturing businesses and other B2B's can qualify for 40-50% match funding for a budget of between £5k and £60k. This could potentially cut your marketing budget in half or double it*.With R&D tax credits, this could increase to up to 75%.
Why? For a limited time, EU Match Funding remains in place for businesses in the above areas to access it. It's there to help them grow. As official partners of the scheme, we are actively looking for companies that would like to benefit from it.
Why work with AIM Internet?
Growth with AIM Internet is different from growth with other agencies. That's because we really drill down on where your margin is and the correlation between website visitors and sales. We know that percentage sales will increase as the percentage of website traffic increases. But we don't just drive any old traffic, we focus on where your margin is so that the traffic you receive is high quality and high return.
As a result, we increase sales for your business. We know what we are doing, and more importantly, we do it with care. We treat our client's money as if it were our own. If we don't think it will have a positive impact on your bottom line, we won't do it.
How can AIM Internet help increase sales for YOUR business?
1. Establish your credibility.
It is especially important in the manufacturing and engineering industries to have specialised expertise and to be able to demonstrate said expertise. There is no client out there that would reject working with someone who shows a deep understanding of their field.
Showcasing this expertise can be achieved through a properly structured digital marketing strategy. With this in place, you can build a strong reputation as a thought leader in the world of manufacturing and engineering.
2. Lead conversions increased.
Strategies like email marketing or automation can give you greater opportunities to convert leads. For instance, you can consider using automation to send specific emails based on a prospective client's activity on social media or your website. This strategy has been proven to have a 77% success rate in lead conversion.
3. Generate repeat customers.
The sense of fulfilment that a returning customer brings is a feeling that no business can ignore. Repeat customers are a company's backbone, and it's much easier to retain an existing client than it is to onboard a new one.
As such, using digital marketing strategies to keep customers coming back is a great use of resources.
4. Establish brand awareness.
We will make sure your business sticks in the minds of those who matter by implementing a marketing campaign on social media, taking advantage of targeted email marketing opportunities, developing an SEO strategy, using PPC ads, and making sure your website is working for you, not against you.
The greater your online presence, the higher the probability of customers being able to find you.
5. Measure, test, and repeat.
Digital marketing is measurable and result-driven. As a business, being able to measure ROI in a straightforward way gives you a huge advantage. If it doesn't work, we'll change it. If it does work, we'll do more of it. It's that simple.
"Websites are an essential marketing tool for any business, but AIM Internet makes a real difference by ensuring their websites truly work for the business to ensure continued growth."
A. Bradbury
"AIM Internet have provided us with invaluable help and expert guidance in developing our Company web presence. They always deliver no matter how tight the deadlines and provide excellent value for money. I have no hesitation in recommending their services to my friends and business contacts as I know they will be in very safe hands."
M. O'Dwyer
"I have always found AIM Internet to be very easy to work with – they have a good understanding of what we require and are able to portray this in a straightforward and understandable way. They have, without doubt, made a huge difference to my business."
G. Devey
"I have worked with AIM Internet for many years, and would strongly recommend them to both new and established businesses. AIM provided opinions and ideas as an outsider looking into our business, and could therefore recommend actions that we would not have initiated on our own."
M. Mitchell
Join the 100's of Manufacturers AIM Internet Has Helped Over the Years
Unlock instant access to granular data in real-time to inform your strategy and tactics.
We use a proven, data-driven formula to support manufacturing businesses and implement best practices across all customer touch points. We can help you market through the reach, act, convert, and engage stages of the consumer journey by identifying goals and KPIs for each stage.
Still have questions?
Head over to our Facebook page where you can find answers to FAQs, questions, and answers from other users, or post a new question and get a quick response from one of our experts.


* Subject to status and grant rules

Ready To Grow Your Business Faster?
Get In Touch Today