If you're creating great content and have a great SEO strategy but want to see better results, content clusters are the best way to help you get there. Here at AIM Internet, a core part of our digital marketing strategy is using cluster content. The basic working principles of a content cluster strategy is that you create a 'cluster' of content around one particular subject. While keywords are still very important, the idea of the strategy is to have one pillar topic with topically relevant content linking back to it. 
A content cluster or a 'topic cluster' model can be very powerful. But content clusters take a lot of planning to make it effective, as well as planning and a good understanding of SEO. 
Types of keywords
Although it would be great to jump straight in and choose your topics, it's important to do the groundwork first. This means understanding different types of keywords. Generally, there are three categories of keywords: navigational, transactional, and informational.
Take a look at the infographic below: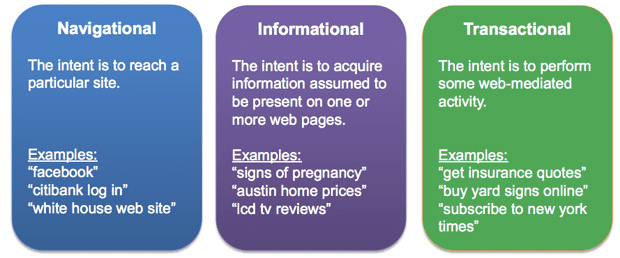 Source: https://www.wordstream.com/keyword-intent
Navigational
As you can see from the above image, Navigational keywords are the types of keywords you are probably already ranking for as they typically include your brand. For example, "where is the nearest hairdressers." Navigational keywords are generally when someone is looking for something specific.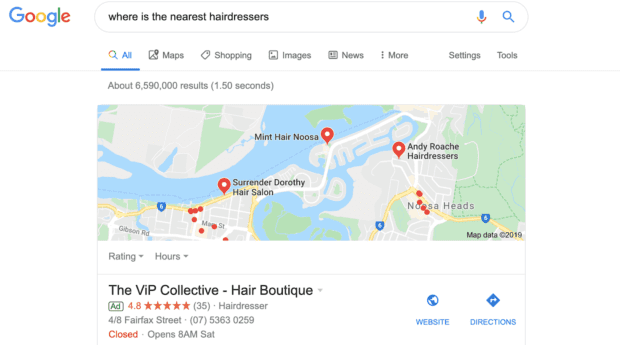 Transactional
Transaction keywords are keywords that you want to rank for as they're relevant to your product or service. They are 'transaction' keywords because the user knows what they want, your aim is to be the solution to their problem or query. These keywords should be present on the relevant pages. For example, if you own an online tooling company some of your transactional keywords for your drill page may be: 
Quality drills

Reliable drills 

Cheap drills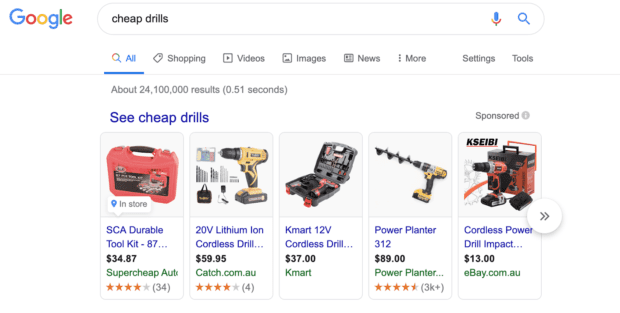 Informational
Simply put, the user is looking for information. This is where content clusters serve you well. If you have great SEO content that gives the user a solution to their problem or answers to their questions you're halfway there, you can win customers over by targeting these terms. 
The keywords you use here will be different for each industry. Some examples of informational keywords include:
How does SEO marketing work?

How many words should a blog post be?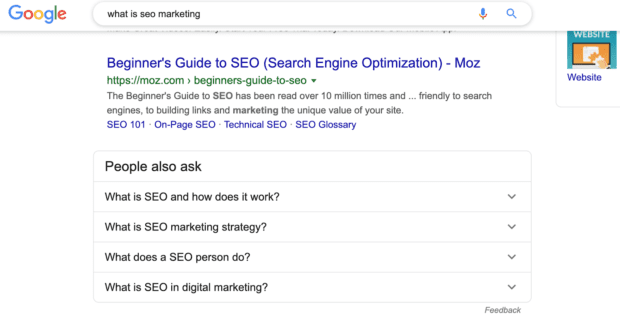 TOFU – MOFU – BOFU
Informational keywords are generally top of funnel keywords as the user is usually at the beginning of their buying cycle. As you graduate towards the bottom of the funnel people are usually searching using more transactional keywords, indicating they are closer to making a decision.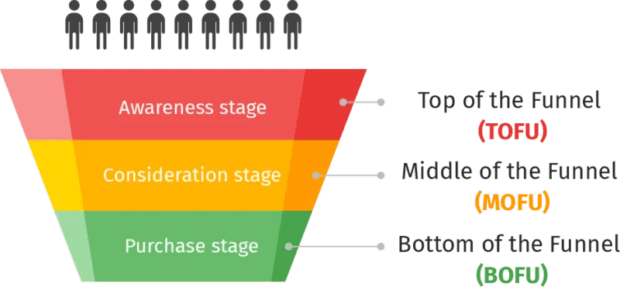 Source: www.fullmoondigital.com
What about the middle of the funnel? This is where you have the opportunity to help the user decide whether a product or service fits their needs. Middle of the funnel topics are useful to cover in your content clusters, helping the user get closer to the end of their buying cycle. 
How to choose topics for a content cluster?
Choosing the right topics for a content cluster is essential for it to be effective. The best place to start is on your transactional pages. There are two reasons to begin here: 
You want your content to be relevant and informative, by taking inspiration from your transactional pages you know it ties directly into your product or service offering. The organic top of funnel traffic requires relevant information to make sure they stay on your page. The less relevant the content the harder it will be to guide them further down the funnel and further into their buying journey.

Secondly, you want your website to be a trusted and authoritative source when it comes to information on your products and services.

Take our website for instance, our content is built around our main navigational pages and their subcategories. Following the strategy, our content clusters should be made up around the following: 
Digital Marketing

Increase Sales

Social Media

Website Design
You will then want to create content around the subcategories listed under each main category, for example: 
SEO

PPC

Digital Agency 

Remarketing
The more content you create around these specific topics, the better your core transactional pages will perform.
That's why it's so important that all content is relevant to your target page. At this point you will need a strong internal linking structure to ensure you're making use of and linking back to existing content (if relevant) as well as creating new content. 
Why are content cluster so important? 
Content clusters are important for SEO if you want to work cohesively with Google. The way Google's algorithm works has a direct impact on the way we approach search engine optimisation strategy. Once upon a time it was just a matter of keyword stuffing in order to up your Google ranking but today, Google is smart. Google has advanced its algorithm and machine learning technology, so it's necessary to create quality, easy-to-read and topically relevant content.  
Google RankBrain
What is Google RankBrain? RankBrain is a machine-learning artificial intelligence system that understands the topic you are searching for and looks to return the content that it deems the most relevant. 
Google essentially reads your content and decides how relevant your site is to the user.  It's also used to help rank web pages. In fact, Google says RankBrain is its third most important ranking factor. This is why creating cluster content around particular topics is an effective SEO strategy. 
How do I choose keywords for my content cluster?
The first thing you need to do when creating a content cluster is identify informational keywords associated with your core transactional pages. It's important to research what topics are most commonly searched, it isn't always the most obvious keyword terms. Remember, assumption is the mother of all failures so don't just guess, do your homework. Tools such as SEMRush will make the process easier. 
Once you have curated this information you can analyse which keywords you can and want to rank for. You are aiming to build a large cluster around each main product or service. For example, if you were a hairdresser that offered hair extensions you should look to create lots of content around the different questions and informational queries related to hair extensions. Take a look at some examples below:
How long do hair extensions last? 

How do you maintain hair extensions?

Can you go swimming with hair extensions?

Different types of hair extensions

Benefits of hair extensions

Can extensions damage your hair?
Once you get started with a topic you'll probably find there are endless related topics you can put together in your content cluster. Don't forget to internally link to your other content so that it's easy for users to go from one useful bit of information to the next. You should also link to the main hair extension page on your website in each piece of content. 
Once you feel like you have covered all the topics relating to hair extensions, move onto the next cluster around related topics, for example: 
Hair styling

Hair care

Age defying hairstyles
This works because people who are searching for information on hair extensions are also likely to be interested in other hair related topics. The reason it's important to start with hair extensions is that it is more closely related to the services you offer, however, if they are willing to invest in hair extensions they are probably also willing to invest in hair maintenance and styling. Content clusters bring in more top of funnel traffic with each piece of content you add which can ultimately increase your bottom line. 
When it comes to content, you really can't have too much. The more relevant information and the more questions you can answer for the user the better. The more content you have on a topic the more your site will be viewed as a trusted resource and authority on the subject. Don't get caught up in every piece of content having to be transactional, the key is that it is interesting or useful to the reader. 
How many articles should I have per content cluster?
There isn't one single figure you should be hitting each month when it comes to publishing content. However, as we mentioned above, the more content you have the better your content strategy is likely to perform. The more relevant topics you cover, the more likely it is that Google will return your content from a search query related to that topic.  
So to be clear, there is no magic number but the more quality content you can create, the more users you will get to your site at the top of the funnel and the higher you will climb in the rankings of your key transactional pages. 
How many words should each piece of content be?
There is not an exact science to how many words should be in each piece of content. The key is to make sure you have covered the topic well. That being said, generally you can decide whether the topic will be a long-form article (2,000+ words) or a short-term article (500-1,000 words). 
How do you decide? When it comes to deciding, take into consideration the search volume and competition around that topic. Ask yourself how important the topic is to your business and how useful it will be to your readers. If the answer is, very, it is probably worth investing the time into a long-form article. Especially if it has a high search volume.
Generally speaking, longer articles will perform better due to the holistic nature of the content. The longer the article, the more information you can cover on that particular topic, which means Google is likely to find the content more relevant. Consequently, you are more likely to appear in the search results for that topic. 
How do I know if my content is topically relevant?
What is "topically relevant" content? Topical relevance means that a topic and closely related topics are comprehensively covered on a page. Making your content topically relevant is key to an effective content cluster strategy as Google will 'read' content to determine if it's a good match for a user's search query. 
Google will also establish whether it thinks the site is a trusted resource or authority on the topic and rank it accordingly. The algorithm has many ranking factors but backlinks, keywords and content quality are three important things to remember. 
One way to ensure your content is topically relevant is to simply have lots of it, on each topic. 
Tip: A very quick way to come up with content ideas that are closely related is to look at 'related searches' on the bottom of the search engine results page. 
How do I implement a good internal linking strategy? 
The key to an effective content cluster strategy for SEO is a strong internal linking structure. By linking to other related content you are telling Google that your content is related, but more importantly, you are passing authority between articles. And let's not forget to mention, creating a better user experience. That's why it's essential to link back to your transactional pages and other related content. Be careful to only link relevant content, ideally the anchor text (hyperlinked text) should be the target keyword or topic of the content you are linking to. It should fit seamlessly into the text without disrupting the flow. 
A successful content cluster strategy also needs inbound links, also known as backlinks, from other sites. The more sites that link to your content the better, as this signals to Google that it's a trusted and authoritative resource. That being said, it's quality over quantity, it's better to have only a few high-quality links than twenty poor-quality ones.
But what makes an authoritative link? Put simply, it's a website with a good reputation for delivering great content, but unfortunately there isn't a tick list. According to a Google spokesperson:
"We have no one signal that we'll say, 'This is authority'. We have a whole bunch of things that we hope together help increase the amount of authority in our results."
How do I know if my content cluster is effective?
Creating content clusters for SEO is a big time investment so it's important that you can measure your results.This gives you the opportunity to amend and improve where necessary. Using SEMRush you can do exactly that by tracking your keyword growth. It gives you a clear indicator on how your content cluster is performing. 
Another invaluable tool is Google Analytics, you are likely already using this to monitor other KPIs so why not create a segment so you can isolate and examine the specific cluster articles and track their traffic growth over time. The other benefit of tracking it this way is you can see how many conversions these articles are driving. While conversions are not always the primary goal of a content cluster, it's a nice added bonus to see your hard work paying off.  
What KPIs should you be looking for? Key metrics to examine are bounce rate, time on site and pages/sessions. But, bear in mind that bounce rates are generally higher on blogs, if you notice good engagement levels then you're on the right track.  
One of the main objectives of content clusters for SEO is to drive traffic to your transactional pages, so it's important to track any growth. Be mindful to monitor keyword rankings and organic traffic trends for the core transactional pages your content clusters are built around. To keep track of this you should measure your growth and increased keyword rankings for those core transactional pages. 
Content cluster checklist
To create topic clusters is a big investment of your time, so it's beneficial to you to get it right from the beginning. Once you have created your content here are  a few key things to check. 
Topic strategy
Making sure you have a well-planned topic clusters model is key to getting your content clusters to rank. And try to cover everything within your cluster thoroughly. Brainstorm, use Google's related searches or even use a tool such as SEMRush to make sure you have covered all the questions and related topics people may think of when reading around that subject. 
There should be no question unanswered and people should be able to easily click from one topic to the next either via related links or keyword links within the content.  
Content length
The word count will naturally depend on the topic, and how valuable it is to your product or service offering. The key is to ensure you have thoroughly answered any potential questions around the topic. That being said, longer content generally performs better (probably because the topic has been covered well). 
2,000 – 4,000 is a good number to aim for. If you are writing about a topic, it's generally because it's relevant to your industry so there should be plenty to say. However, it's not a good idea to pad out content just for the sake of the word count. It still has to be good quality, relevant content. 
Internal linking strategy
The aim is to link your key transactional page and the other topics within your cluster. This will create a strong internal linking structure and help you perform better within searches. As long as the links are relevant, you can link as many other topics as you want without anything other than positive consequences. And as we mentioned earlier, where possible use the keyword from the linking article as the anchor text. 
Number of topics
The more content you can deliver on a topic, the better. Google ranks authoritative websites higher so the more content, the better your site will perform. To begin, aim for at least three or four pieces of content within your cluster, but expand from there. You will probably find it becomes quite a natural process and you won't have any issues deciding on the topic of your next article as there are so many angles or questions to answer. 
Content ideas
Research topics that are relevant to your business, ones that will have an impact or you know will benefit your end user. Use research tools to not only make you life easier but to give your content clusters a strong foundation based on keyword volumes, Google trends, competitors strategies, etc. 
Conclusion | Content Clusters Strategy For SEO
Content clusters can have a great impact in SEO if they are carefully considered and executed. Creating quality content supports both informational and transactional keyword growth, which is why they're so valuable to your business. It can take time to build up a successful content cluster strategy but stick with it and you will begin to see the fruits of your labour in terms of revenue and brand authority.