There are lots of ways to use new inbound marketing methods in your digital marketing strategy. Not only will you attract new customers but you'll also keep the customers you already have. 
Here's why inbound marketing will be essential in the future. 
1. Google Algorithm Changes And SEO
Google updates its algorithm regularly, so it's important to pay attention to the changes if you want your website to appear in SERPs. 
When inbound marketing first arrived on the scene, the most commonly used strategy was and still is SEO keywords. But times are changing, since the Medic update of August 2018 and the subsequent changes we've seen introduced since then, it may not be the most effective method. 
Changes To Algorithms And Content
The most recent changes to Google's algorithm means that targeting only one keyword with relevant pages will no longer be effective. Google now looks at how comprehensive your coverage is on a topic – it's all about contextual and relevant content.
After the update in June 2019, you now need to consider the following things:
Is the content high-quality and relevant to potential customers?

Does the content provide reliable evidence and trustworthy sources?

Is the content easy to read and understand with easy links?

Does the content provide value for the consumer?
Quality Content For SEO
The quality of content around the topic is the most important. It needs to provide value to your target audience. Google will analyse your content to make sure it answers the users search query. If it's determined that you're producing high-quality, valuable content on a regular basis and your information is reliable, then you will rank higher in search engine results page long-term. 
Additionally, in October Google implemented the BERT update. This considers complicated search queries and context and is aimed at improving language understanding. It focuses on conversational language that is easy for a user to understand and engage with. 
This update allows Google to better understand the nuance and context of words and then match these queries with the most relevant results. Your content must have context for Google to determine whether it is helpful or relevant to the search query. 
If your content doesn't pass in the eyes of the algorithm (we are seeing more and more artificial intelligence being used), your ranking may be at risk. 
Content Creation Is A Top Priority
In fact, 55% of marketers claim content creation is their top inbound marketing method after organic SEO. 
High-quality, topic-based content is the way forward.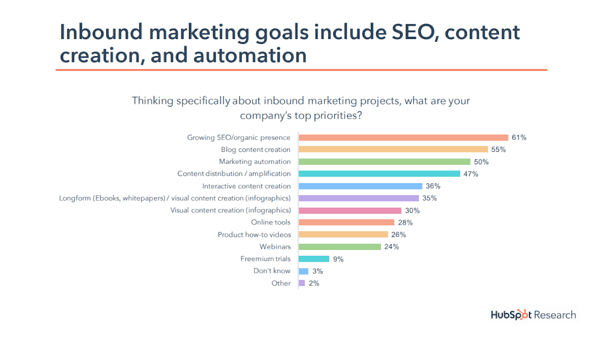 Image from HubSpot's State of Inbound
If Google can see that you have been consistently writing high-quality content on a particular topic (also known as a content clusters or topic clusters), then you will be seen to have authority over that topic. Internal linking between relevant content will also benefit these algorithm changes.
Related: What is a Content Cluster? Everything you need to know
High-quality content on a subject builds trust and means customers will see you as the go-to source when they're searching for information on that topic. 
2. Focus On Customer Experience
A successful inbound strategy relies on shifting focus towards the customer. This means your priority should be to ensure a good user / customer experience. If you want to upsell and grow your business, this is essential. Although new leads are important, you don't want to make it your sole focus. That's why the Flywheel has been implemented (check out HubSpot's blog explaining the Flywheel). The Flywheel method is much closer to how the customer thinks and interacts with a business than the marketing funnel. This strategy allows you to understand your customers and their needs, therefore helping to create a seamless customer journey. You'll know the types of content your customer wants to see, understand their pain points and other ways to improve their experience. 
Using inbound marketing methods enables you to get the most out of your content by adapting it. It's all about being able to seamlessly go from one piece of content to another piece of relevant content. 
Related: How to Create an Internal Linking Strategy Perfect For SEO
3. Quality Video Marketing
It will come as no surprise that video content should be a priority now and in the future. Inbound marketing is about giving the user what they want. Not every user is going to want to read a blog, some will prefer video content. Video is a great way to deliver the same information in a quick and concise format. A 30-second video is far more convenient to some people than a 10 minute read. Recent statistics show that content consumption on Facebook has increased by 57%. On top of this, video is said to drive a 157% increase in organic traffic from SERPs. Video has taken the world by storm with no indication of it slowing down. 
Video content for inbound marketing is only gaining traction, HubSpot claims that more and more marketers are focusing on video platforms like YouTube, Instagram, Facebook Video and now TikTok.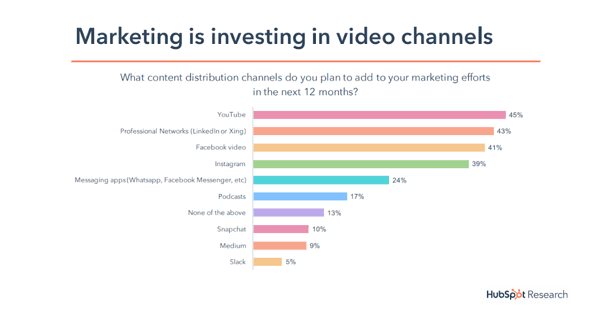 The key to an effective inbound marketing strategy is understanding the needs of your target audience. What are their pain points? What exactly is it they are looking for? This will enable you to create effective content. 
You Don't Have To Take Our Word For It…
We live in a digital world. Think about how much video content you consume personally. Whether it's music videos, how to videos, Netflix, video is now imprinted in our day-to-day lives. Check out these stats from Hubspot below: 
87% of businesses are using videos as a marketing tool.

83% of marketers say that video gives them a good ROI.

Video production costs shrank in 2018 by 41%.

87% of consumers said they'd like to see more video from brands.

68% of consumers said a short video is the best way to learn.
The clear demand for video means an emphasis on quality content is needed for an effective inbound marketing strategy. 
Find Out More About Inbound Marketing 
The above has only scratched the surface of inbound marketing. There are lots of techniques you can implement to help boost your inbound marketing efforts and inbound strategies.
If you're curious about how you can use inbound marketing or content marketing for your business then get in touch today on 0870 062 8760. 
You might also want to check out Digital Marketing Trends 2020: 5 Need to Know Strategies