Once upon an SEO time you could simply cram your content with any link you wanted. It did not need to be topically relevant to increase traffic to your website. Today however, the search engines are much smarter, which means as marketers we have to be smarter with our strategies and create topical content.
Not only that, we want our visitors to have a great user experience, which means not leading them to irrelevant information. Instead, search engines find the relevant information that searchers are actually looking for. This means you need topically relevant content.
Why Is Topical Content Important?
The search engine finds the content that is regarded as topically relevant. It then gives it priority on the results page. To be topically relevant the content must relate to the search. It must have in-depth, quality information on that subject. Generally, for your topical content to be regarded as relevant it must include keywords, page links and in-depth coverage on the topic. Longer content generally performs better.
Related: How to Create an Internal Linking Strategy Perfect For SEO
Topically Relevant Content With Google
Google's algorithm will comb through the content and determine whether it is worthy of an authoritative title. If it deems the content an authority on the subject, it will rank it accordingly in the search engine results. There are many factors taken into consideration. However, backlinks, keywords and length of content are key indicators on how valuable and relevant your content is.
Backlinks
A key ingredient to results page success is backlinks. Backlinks from authoritative sites let Google know that your content is relevant and informative. It tells the world that you are an expert on the particular subject. The more backlinks you have, the higher Google ranking you will receive. However, the website that is linking to you must also be of similar stature or higher, in regards to authority and traffic.
Related: 12 Link Building Strategy Examples to Boost Your SEO
Back-Linking Has Evolved
In years gone by, back-linking was easy. You could simply get listed on link farms (sites with nothing but links). This tricked web crawlers into thinking a page was performing well. But as we were saying before, Google is smart now. Now, links have to be relevant within the content. Additionally, they also have to lead to (relevant) quality content. The algorithm will analyse the outbound link from the referral page. It will check whether it leads to a trustworthy, authoritative website with related topics and lots of traffic. It sets a high bar! Outbound links are also checked to make sure they do not lead to spam sites, or sire that are over optimised to try and influence the algorithm.
Keywords
Keywords have been around forever, and continue to have their place. They definitely shouldn't be over-used. However, it's also important that you use relevant keywords to show Google that your website is relevant. If your content is populated with relevant keywords around the main topic that do not interrupt the flow whilst reading, then the search engines will pick up on this and display your site in the relevant search results. This is why it's important to perform keyword research as some keywords will pull more weight than others. There are so many sites to help you with keyword research these days that there really is no reason to be going in blind. Another simple but effective way of highlighting your topically relevant content is by bolding keywords within the content. This makes it easier for search engines to pick up.
Length Of Content
Finally, the last thing to consider is the length of your content. Generally, the longer the content, the better. But, only if it's relevant content. It needs to offer value to the reader so don't force it if there's nothing more to add. Content with more relevant text than another page with the same amount of traffic will outperform in the SERP and rank higher. Your topical content will be pushed higher into the search results page. The reason why is simple: the search engine will see that there is more information on the topic.
Keeping Longer Text SEO Friendly
Marketing company SEMrush found that the highest ranked Google pages had an average of 1,890 words. So more words are definitely better, but only if the content is engaging and informative to your audience. To make life even easier for you there are plenty of tools available to help you determine topically relevant posts. The best performing websites aren't just there by chance. They do the research, then implement their findings. So how can you make the most of these online tools and improve your topical relevance? Check out some of the tools below. We've included some free options and some you will have to pay for but they'll all help you improve your content and SEO strategy.
Google Trends
A simple tool to use, Google Trends analyses the popularity of top search queries in Google Search across various regions and languages. The website displays a graph that shows search volume over time.

In this instance we used "voice search" and the graph showed a heavy spike in interest in August. Users can also break down their keyword search results by global region and related topics.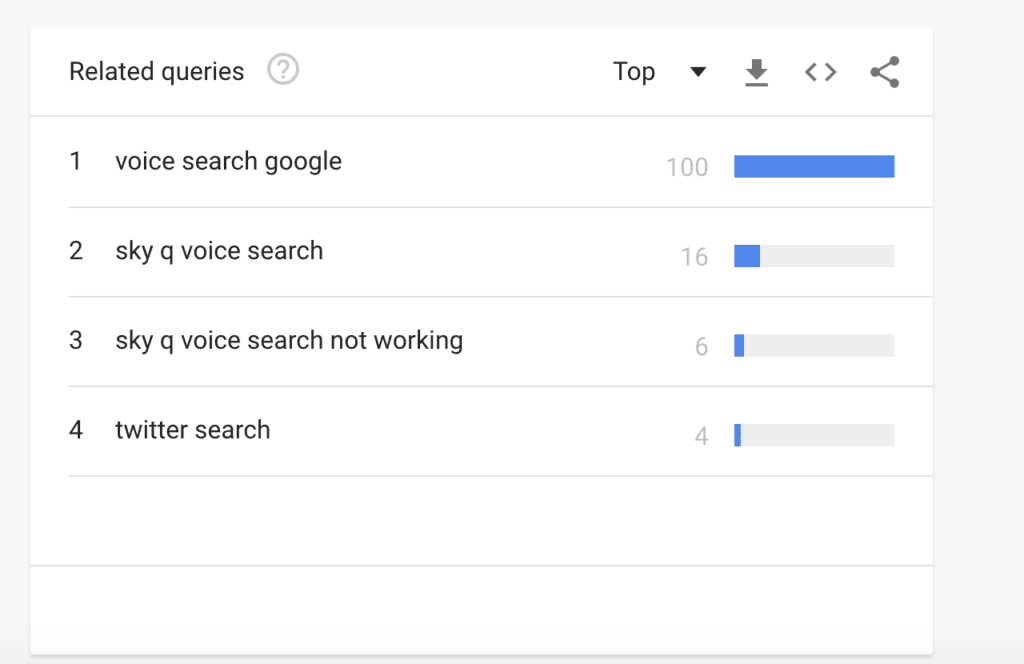 MarketMuse
MarketMuse will accelerate your content creation and help you improve organic search rankings. Using its AI-powered Content Intelligence and Strategy Platform, MarketMuse analyses millions of articles on demand, uncovering gaps and opportunities to create relevant, high-quality content your audience (and search engines) will love.
Although not a free option, it's definitely a worthy investment. Non-subscribers have to enter a term and wait for an email from a sales representative (slightly inconvenient). But once subscribed, there's a semantic search content optimisation tool available that helps you develop everything from a content plan to navigation optimisation and internal linking. The process is broken down into three steps: site audit, content audit and content analyser, making it simple to improve your content.
SEMRush
SEMRush is one of the most complete and comprehensive software in optimising your website content. More than just a keyword research tool, it even as an SEO writing assistant tool for SEO tips and SEO optimisation before you publish it. It also allows you to check your own keywords against the keywords of their competitors. SEMrush is an SEO tool that does your keyword research, tracks the keyword strategy used by your competition, runs an SEO audit of your blog, looks for back linking opportunities and lots more.
Conclusion
Topical authority within content marketing is one of the most relevant ideas in search right now and there's a good reason for that. By creating content such as a blog post or content that has topical authority provides a broader net of keywords, generating high-quality topical content. This creates a great user experience. If your content is relevant, engaging and useful to the user it is also more likely to be referenced linked and shared on social media.
When subsequent questions arise, users won't have to search elsewhere to find the answer. It will be right there on your website (and hopefully internally linked).
When Google is looking for an answer to a question – the answer will be right there on your website.
When Google is analysing your content to see if you have additional information to meet other user intents – you'll have everything it's looking for right there on your website.
You'll have more pages, broadening your keyword net, attracting more links, and improving search engine rankings.