If you are looking to get your business on the map, using Google My Business will definitely help you to achieve this. What is GMB? Google my Business (GMB) is a free local business listing service. It is one of the easiest ways to improve the appearance of your website in local search results.
However, many small businesses fail to take advantage of it and do not use it to its full potential.
That's why we're going to take a look at why small businesses should have a Google My Business listing and the advantages you will have over those that don't. You will learn that by taking advantage of this free service, it will greatly increase the chances of your business showing on the first page of the search engine results pages (SERPs). 
Business search by name
The most obvious way that your business will come up is if a search for it is done by name. Have a look at the example below of a listed ice cream parlour in Lincoln, this was the result when searched for by name.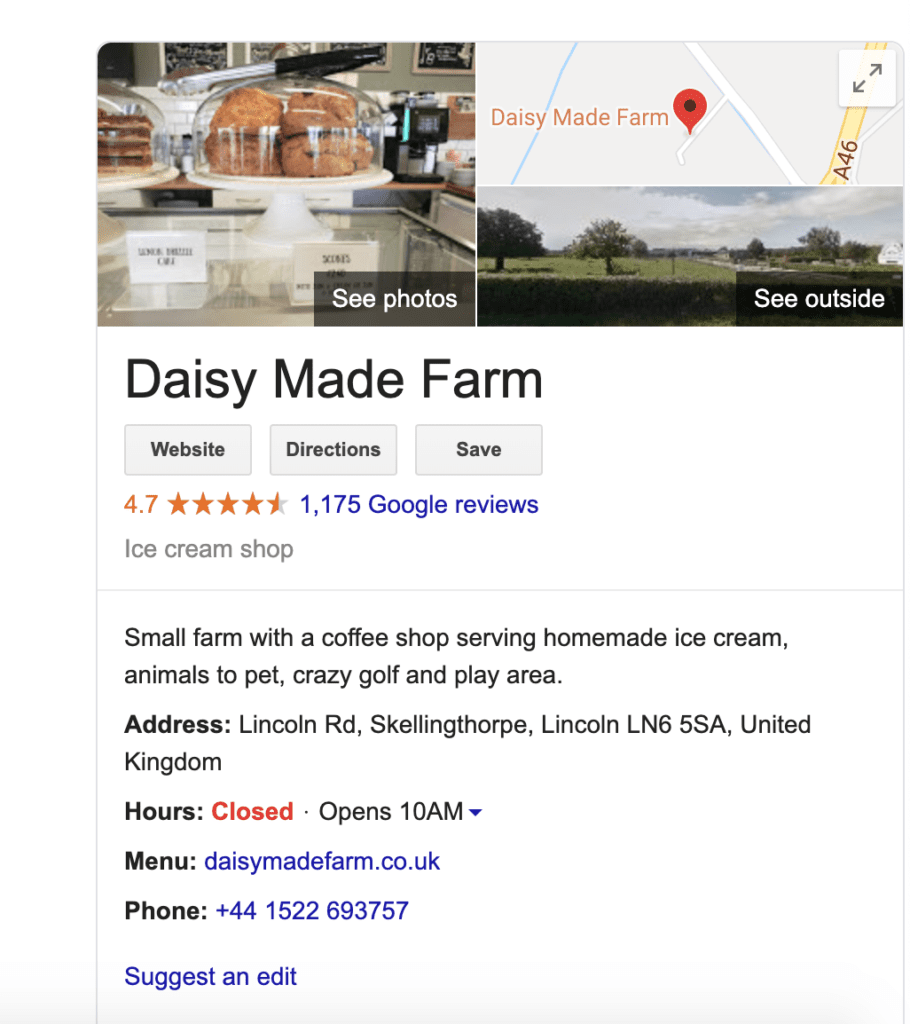 If a search is made using the specific business name, it's safe to assume that the user is looking for information about this particular business. Using Google My Business, you can create a listing that will provide very quick answers. For example, you can instantly see the address of the premises, its opening hours and click on the links for directions, the website and reviews. You can even select images of both the exterior and interior of the business.
The only drawback with this is that the searcher was directed to the GMB listing and not to the company website. However, this isn't necessarily a bad thing, as the user has found all the information they wanted quickly and easily. And if they do want more, there's a link to the website to make it easy. 
General search
Another way a business will appear within GMB searches is when a search is made looking for a particular type of business. This is what makes using Google My Business so good and worthy of the time invested in setting it up. These listings fill the first page and as such, are more likely to attract business because of their prominent position on the listings.
Let's take a look at what listings appear when we search for "ice cream lincoln"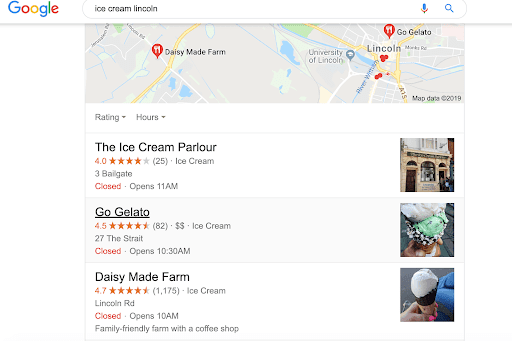 As you can see, Daisy Made shows up as one of the top three, and the great thing? It doesn't matter that it's third as it also shows reviews, of which Daisy Made wins hands down. This is a perfect example of the power of GMB and why your business can benefit from using it.
Should my business be using Google My Business?
Whatever your business, you should definitely be using Google My Business. As you can see from the above example, being listed can help your business stand out from the crowd. And we all know if you're not on the first page of the results you may as well not be there at all. 
Improving your GMB listing 
When a general search is made, it is more difficult to gain a prominent position in the SERP. There are numerous factors to take into consideration, like how many similar businesses there are in your vicinity. To increase your exposure it is important to get as many review scores as possible, as this is one of the key ranking factors Google takes into consideration. 
GMB great for local business
Google My Business is totally focused on local searches and there are two types of search; searches that are made in your business location and searches made from outside the area with the location included.
As an example, if a user is in Lincoln, they may just search for "best ice cream" however, if they are going to travel to Lincoln at a later time/date they are more likely to search for "ice cream lincoln".
According to a survey by Hubspot.com, 88% of consumers who do a local search on their smartphone visit or call a store within 24 hours. They also found that 46% of all Google searches are seeking local information. This shows the importance of being listed on the first page of Google. 
Interesting GMB statistics 
A study by Bright Local in May of this year, found that the most common Google searches for local businesses were as follows: 
Restaurants and Cafes 56%

Grocery stores 37%

Clothing Stores 34%

Hotels and Bed and Breakfasts 34%

Medical Practices and Healthcare 28%
Overall this study found that 87% of users had used Google to find a business and 64% had been using Google My Business to find contact details for local businesses. The study found that the three main features of GMB used were: 
Opening Hours

Directions

Reading Reviews.
The same study also revealed that 56% of all consumers expect a local business website to have the most accurate information.
Importance of GMB for mobile search
In a 2018 study by Uberall, they found that 60% of mobile phone users will click on the first two or three results they see. This is particularly relevant when you look at the first page of a GMB search. If you want to maximise your chances in local search results then a Google My Business listing is a must.
What has become apparent is that more and more of these local searches are being made using mobile phones. In fact, statistics show the figure to be nearing 60%. Near me searches for cafes, shops, restaurants and bars are most searched for and usually done by people on the ground with mobile phones, who are going to use that information there and then or in the very near future.
This makes mobile visibility very important. Google My Business is key to that as Google listings dominate mobile search results. In fact, it is almost impossible to avoid them on most local searches.
What's next?
If you currently are not using Google My Business listing and your main competitors in your local area are, then your business will suffer. You will only get hits if someone visits your website. Mobile searches will inevitably produce GMB listings and these only show the three top rated businesses. Having your own listing will at least have you on a level playing field with your competitors. It's not rocket science, it just makes your business easier to find. Ask yourself how many people visit your business that are not local and how they found you. The obvious answer is that in most cases they will have used Google.
GMB gives the user what they want, fast
Using Google My Business makes key information such as location, opening hours, reviews and maps all readily available and make it more likely that you will get a customer. Good quality images showing the premises inside and out (particularly in service lead businesses like cafes and restaurants) will also attract potential customers. As well as Google My Business providing key information, it also gives your business the professional edge which is more likely to draw customers to your business.  
How do I set up Google My Business?
Search "Google My Business" or

click here

.

In the top right hand corner click 'sign in'.

Sign into your Google account or create one, then click next.

Enter your business address, click next.

Choose if you want your business to appear on Google Maps.

Search for and select your business category, click next.

Enter a phone number or URL for your business, then click finish.

Select a verification process.
Once your application has been verified, you will be able to access your GMB dashboard via the Google My Business homepage. You will then be able to see how people are finding your business be it via Google Maps or search results. You will also be able to diagnose what happens to that traffic, whether it results in a purchase, a visit to your business, bookings or a call. This is a good way to see how your listing is performing and to identify any improvements that can be made. It could be as simple as adding or changing content to be more relevant.  
How do I optimise my Google My Business listing?
It is not difficult to optimise your listing, simply follow Google's guidelines and make sure all the information you entered is accurate. Make sure you update any information that may change from time to time. It's important that your business is listed in the correct category, if it's not, you will not appear in searches. Resist the temptation to pick broad categories, it is much better to be specific about what your business is.
Make use of photographs, everyone has heard the saying a picture is worth a thousand words. If you're in the food industry or any business where your product is original, do not use generic pictures. Create your own and make them as professional as possible.
If your business can take bookings, there is a great feature for you to take advantage of. The booking facility with GMB eliminates some of the steps for your customer which will also help you win business. Take a look at the example below: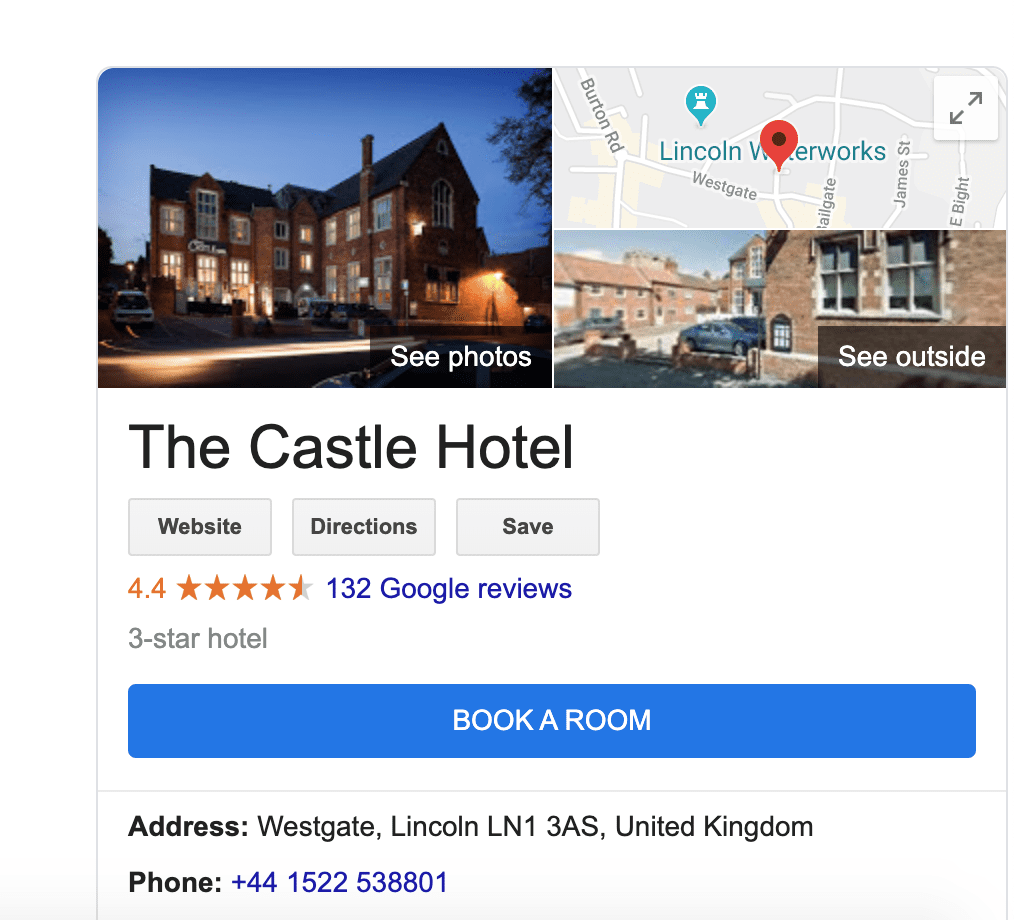 Making the process as easy as possible for your customer is the best thing you can do. 
What is Google My Business questions and answers?
Questions and answers are another very useful tool which can be added to your GMB listing. For instance, if you want to book Damons restaurant in Lincoln for a party you can use Q and A to find out if they cater for vegetarians. It is also a good platform for you to ask your customers questions so that you can improve your listing or the service that you are offering.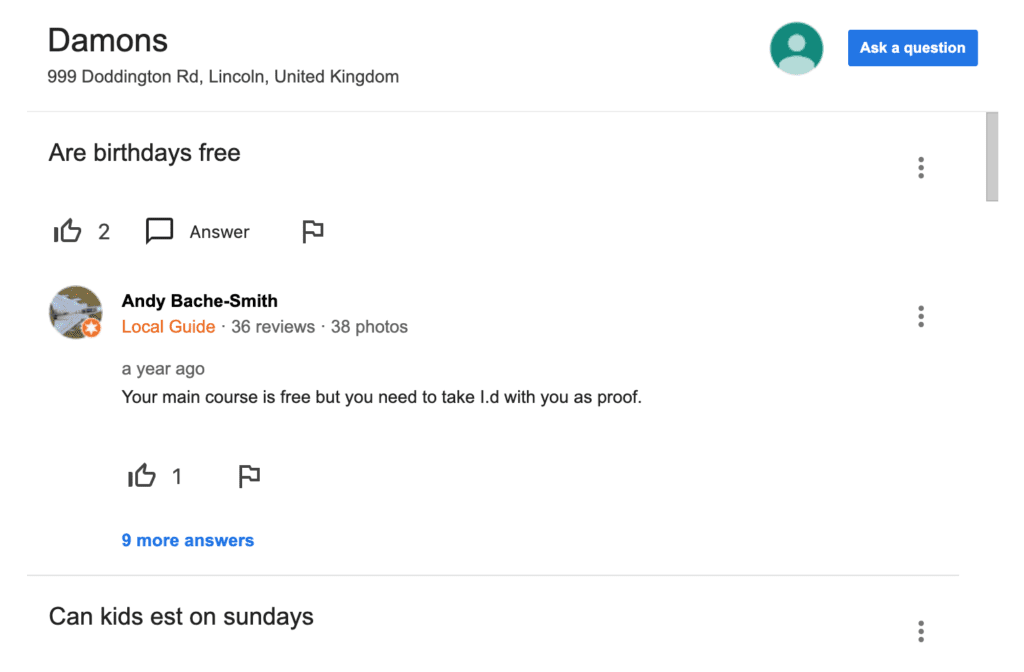 How important are Google My Business reviews?
Reviews are an important part of your GMB listing for two reasons; firstly it's probably the first place a potential customer looks when they are going to book a hotel or restaurant for the first time (or any other service based business). 
Secondly, reviews are a ranking factor within GMB listings and therefore a consistent level of good reviews will improve your chances of featuring in the all important three pack.
Encourage customers to review your business
It is good business practice to encourage customers to leave reviews rather than wait to see if they come in. Also if for any reason a customer has not had a good experience, if you enter into dialogue with them you may be able to head off a negative review.
In Summary
Using Google My Business is a digital marketing strategy that every business; small or big, should be taking advantage of. It is a free platform and is very easy to set up. It is also very easy to maintain without spending too much time on it. Without it, your business is going to fall way down the Google rankings.
Local searches on mobile phones are increasing all the time and GMB listings are at the forefront of Google's future plans. So get on board now and create your GMB listing, take care to be accurate with the information you enter and be creative with your content and images.
If you would like to find out more about using Google My Business then, head to our website today.