AIM Internet has been helping SME's and Entrepreneurs with their business growth strategy for over 20 years. Therefore, over the years we have learnt a thing or two about what works when it comes to growing your business. That's why our proven 7-step formula never fails.
Here's what we suggest:
Put a measurement and KPI process in place if you don't have one
KPIs set benchmarks to measure progress to achieve strategy. Without KPIs you risk losing focus, not achieving strategised objectives and not being able to demonstrate or measure your value.
Identify the gross margin in your business by product/service
If you run your own small business, you will have come across a number of different ways of evaluating your profitability. One of these ways is to measure gross profit, and gross profit margins. Of course there are numerous methods and lots of figures you can use as an indicator but gross margin is very important. As a general rule, the higher your gross profit margin is, the healthier your business is so it's a key factor in determining and managing your business' health.
Audit your online presence to ensure it reflects the margin in your business
The digital world is moving fast, so if you don't take pause to monitor your online presence from time to time you could quickly be left out in the cold. As your main point of contact with your customers is your website, this should be your first port of call when it comes to auditing your business. The customer will make their mind up about your site within seconds of landing on it, so it's important that when you audit your site this includes a thorough analysis of its analytics, with a focus on which pages are getting the most traffic and which are causing customers to leave your website.
After reviewing page views, click-through rates and page visit lengths, consider reorganising your website to have the most popular content more prominently displayed, while fixing or abandoning the pages that are causing customers to leave your site.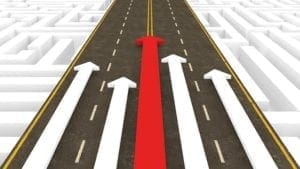 Assess your competitors online
Growing your business without understanding your competitors is dangerous game. Doing your homework can prepare you for changing markets and prevent your business being left in the dirt by competitors. Benchmark your current arrangements against the market and other companies. This will help you see where opportunities lie and where you're potentially wasting your time and money.
Set up a website visitor/traffic generation programme
It can sometimes feel like you've tried every method out there to increase your website traffic. The key, as with most things is to strategise, analyse and implement using all of the data available to you. If you want to truly increase website traffic, you first need to make sure your website content is optimised. Otherwise, the traffic will be fleeting and only temporary. This is the foundation of your business. Know your statistics, from here, you can see how your efforts are affecting your traffic growth.
Test and measure conversion
Testing allows you to measure the improvement that particular changes make on your website and landing pages. You can apply a similar technique to improve the performance of your marketing campaigns too. Conversion testing allows you to get a real reading on whether the change you implemented had a positive impact on your business. Data like this is invaluable when it comes to driving growth with a cost efficient strategy.

Set up an online remarketing programme and email your customers regularly
In order to get visitors who started an order to come back to your website and complete their order, you need to engage in email remarketing. Remarketing is a technique that is used to follow up a website visitor who engages with your website but leaves before taking action, such as completing an order. Email is the perfect platform for this.
AIM Growth is our proven strategy that we implement to your growing your business. Therefore, by putting these 7 steps into action our expert team at AIM Internet has helped many businesses generate consistent growth. To find out more about how we can help you with growing your business please do give us a call on 0870 062 8760 or contact us here on our website.
If you enjoyed reading this article business growth strategy you may also like to read our previous post on how to convert your blog readers into customers.