Digital marketing strategies are constantly evolving, as a business owner or marketer it's important to stay up-to-date with the trends. Content cluster strategies have become a very popular and very beneficial digital marketing strategy. In fact, content clusters have even been labelled 'the future of SEO' (admittedly we have heard that before, but this has legs; content clusters have plenty of SEO benefits).
What Is A Content Cluster?
Gone are the days when you can simply pick your next blog topic, write a quick post and populate it with keywords. Google is smart, and now it likes topic-based content, henceforth; content clusters. First things first, let's be clear about what a content cluster is. Content clusters are a topic modelling structure whereby related content is 'clustered' around a central pillar page (specific topic). The content will include relative keywords to the pillar page or the umbrella topic. Hubspot created a great visual on how the model looks: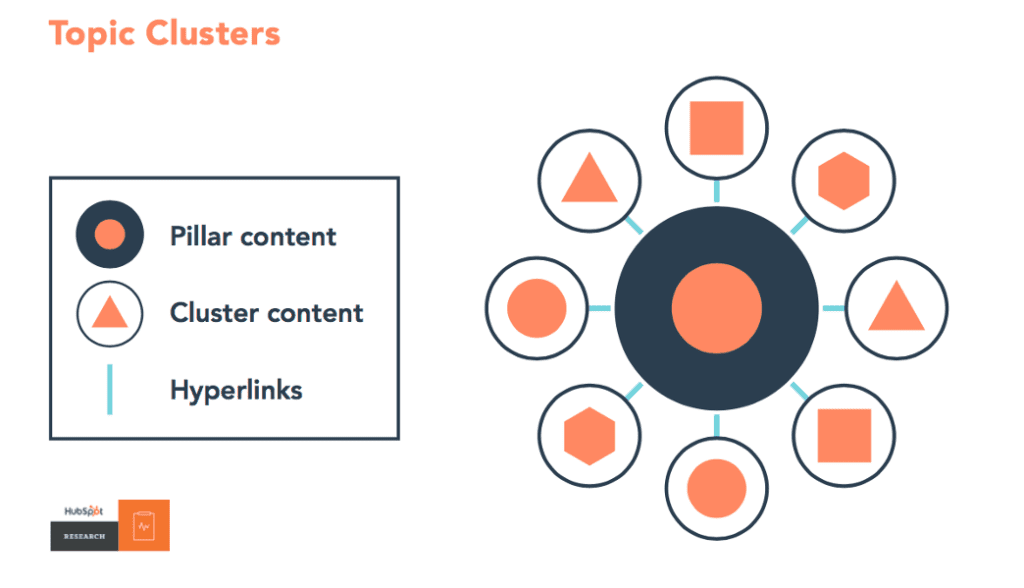 Each subtopic page links to the pillar page.
For example, if you own a business selling cars, your content would be based around the questions people have in relation to cars. Types of family cars? What car is best for families? Which car has been voted the safest? Cars that are best value for money? From there, you can research plenty of related topics, then internally link them together and to the main pillar page. This is all great but, what are the benefits of a content cluster strategy? And you're probably wondering, 'how will content clusters help my business?' Content clusters have far more benefits than initially spring to mind, here are five reasons your business needs content clusters:
Builds Trust And Authority
Search engines deem websites that create multiple pieces of quality content relating to one pillar topic authoritative and trustworthy. In the past, it has been as simple as choosing a topic and inserting keywords. However, now it's important to focus on one topic and branch out from there.
Here is a content cluster example: AIM has navigational pages for Digital Marketing, Increase Sales, Social Media and Website Design. This means our content should be focused around each of these navigations and their subcategories (Digital Agency, PPC, Remarketing and SEO).
The key thing to bear in mind when creating content is to link it back to the pillar page. Internal links are a great SEO strategy and search engines use links as a signal of authority. The more links there are leading back to the pillar page, the better it will rank in the search engine results page (SERP).
Internal linking also increases the time users spend on your page. The more quality content you have related to a topic the more they will explore your website. A low bounce rate means you're doing something right.
Related: How to Create an Internal Linking Strategy Perfect For SEO
Improves Search Engine Ranking
A content cluster strategy helps improve the ranking of all content related to that particular topic. Users expectations are higher than ever, and content clusters deliver on these expectations. No longer do they have to keep typing in search query after search query to find everything they want to know. Instead, content clusters provide easy links to other related topics that the user might want to know. A user can search for general topics and the search engine will provide more relevant results than they could ever get through.
Improves Internal Linking
Topic clusters are a highly-effective internal linking structure. Although they take more careful planning, they are a long term player and help your site gain visibility in the search engines. A solid site structure is the key to a modern SEO strategy.
With the focus on cluster content being on a specific topic, there are some similarities to the earlier strategy, siloing. Bruce Clay, the pioneering SEO practitioner, is credited with creating the silo concept. The concept organises site hierarchy around key topics. While silos are not exactly the same, both create easy-to-follow linking architectures.
Take a look at Bruce describing siloing in a 2008 interview with Web Marketing Today.
Makes Life Easy For Users
Content clusters provide answers to questions around the same topic and most importantly, links to them. This makes it easy for the user to keep exploring more around that particular subject without having to search for specific keywords. The search engine will automatically give the user-related topics.
Generates (Relevant) Organic Traffic
A content cluster strategy will help grow the relevant top of funnel traffic, this will generate organic leads. Giving your users quality content will build traffic and awareness of your brand. Eventually, this will filter down to turn leads into conversions (however that may look for your business).
In Summary
Content clusters take time and have to be carefully strategised, but they are worth the investment. The above benefits are to name but a few, content clusters will also keep you in check when it comes to giving your user what they want. Not to mention, once you have your core topic, sub-topics are easy to come by which will save you time with your content plan. There are plenty of great tools out there to help find related topics. However, it can be as simple as typing your topic into Google and checking out the 'searches related to' section at the bottom of the SERP. This tells you exactly what other keywords/topics people are searching for around your topic. A content cluster strategy makes perfect sense, and it might just be the future of SEO so it's definitely time to jump on board.
For support with creating your own content cluster strategy, call us today on 0870 062 8760 or email info@aiminternet.co.uk.