Just like that, 2019 has been and gone and we are looking forward to another decade of big change in the digital sphere. So here's a look at the social media marketing trends we think you need to consider in 2020 to make sure your marketing strategy is ahead of the game.
Digital marketing is now synonymous with social media. You can't have an effective digital marketing strategy without a social media plan. However, as with all things digital, social media doesn't stand still for long. New platforms are being introduced all the time and the way we use them changes too. This means for your digital marketing campaign to be effective you need to stay ahead of the curve with social media trends.
User habits change, platforms evolve, and new platforms are developed every day. When integrating social media into your online marketing strategy all of the above has to be taken into consideration. What worked yesterday may not work tomorrow. So it is important to keep up to date with the social media trends to get successful results with your digital marketing.
In 2020 it will be more important than ever for marketers to stay ahead of the game when it comes to social media marketing strategies. Doing so ensures you remain engaged with your target audience, which you will see throughout this post, is essential.
Related: Digital Marketing Trends 2020: 5 Need to Know Strategies
We're Digitalled Out
In 2019, Smart Insights published a global social media research summary. It found that there are now 3.484 billion social media users across the globe. A 9% increase on the previous year.
That means a staggering 45% of the world's population uses social media. This equates to 45% (nearly half) of the world's population being on social media. That figure is even higher than the predictions of an estimated 2.82 billion social media users in 2019. These figures would suggest it'll be easier than ever to reach a wider audience in the coming years. In fact, the world should be your oyster right? But there is one small problem. We are digitalled out.
What we mean by that is, people need a break from the overwhelming number of social media platforms we are expected to keep up with. The digital detox is a big trend and one we can expect to grow in 2020.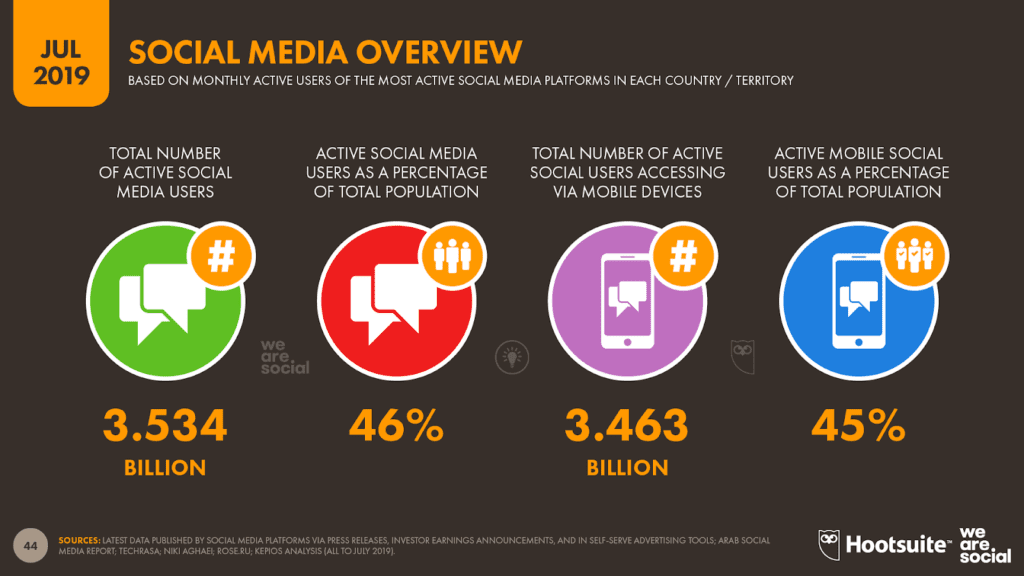 In fact, a recent survey by Exposure Ninja revealed some very interesting statistics:
1 in 3 adults in the UK are actively trying to reduce their social media usage.
6% of users have removed apps off their phone.
6% of users have permanently deleted their accounts.
8% of users have both deleted their accounts and removed mobile apps.
People are choosing to detox from social media by deleting apps and removing themselves from the platforms. This is not just a fluctuation in popularity like we usually see. People are taking temporary, or sometimes even permanent breaks from social media as a whole.
Take a look at the graph below from Smart Insights: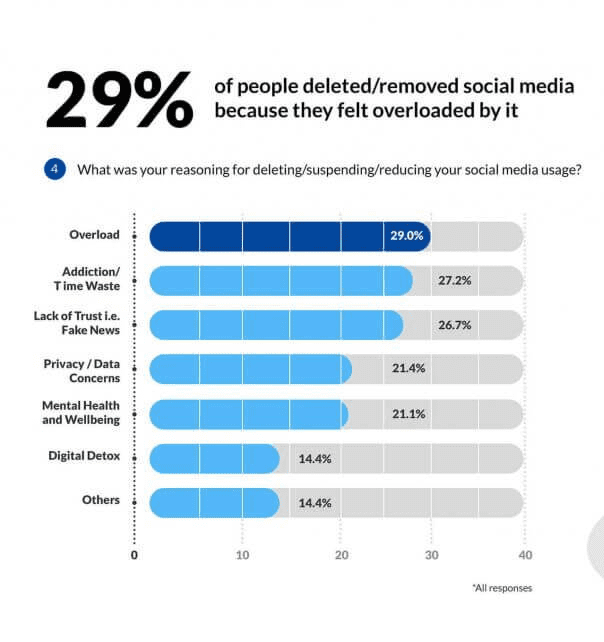 Now you can understand the term 'digitalled out'. People are feeling overloaded by social media and it's starting to affect mental health and wellbeing.
So what does all of this mean for social media marketing?
The number of social media users is huge, so yes, there are plenty more fish in the sea (so to speak). However, marketers have a responsibility to carefully consider how they target their audience and the impact it could have. If the digital detox trend continues to grow, it could have an effect on your audience reach and audience engagement. Consequently, this could impact your brand awareness and the effectiveness of the campaigns you work tirelessly to deliver across social media platforms.
Social media marketing will continue to be one of the most successful 2020 marketing trends. It's just important to invest time into other effective marketing strategies such as; search engine optimisation, email marketing, content marketing etc.
Above anything else, as with all content you deliver, your social media content should add value to your audience. This will keep them engaged and interacting with your brand.
Of course…we still love social media
We especially love social media communities. Social media communities are becoming a big part of how brands engage with their audience. People need more than just a daily post. They want to feel like part of a community, they want to engage with brands and have conversations. The key to a successful community is social media marketing content that encourages interaction.
It's not just about having the biggest social media following. It's better to have a great community around your content and brand, than to have lots of disinterested followers. A loyal following is invaluable. It's the modern day version of word of mouth and you can't buy that.
With unfiltered access to customer insight for your own market research purposes and solid customer loyalty, online branded communities have a lot of benefits for businesses:
Reduced costs of customer support – almost half of businesses with online communities report saving approximately 10% to 25% each year.
Increased brand awareness and credibility, making it easier to sell without coming across too salesy.
Businesses can use the communities for insights on new products or services and customer pain points.
Boosts engagement and increases customer retention.
Offers brands the opportunity to present products and services before they are officially released.
Engaging your social media community
A highly engaged and interactive community helps brands to truly listen to the customer. They can then use what they have learned for digital marketing planning or the next marketing campaign. Or even use it to help develop or improve the product.
We are definitely of an age where marketing is becoming increasingly customer-centric, online communities are simply the evolution of the everyday online business website, with blog content, landing pages, and ecommerce. Building a community around your brand is not a new concept, but it's one we think will stick around for 2020 and continue to gain traction.
Creating the space for the community is just the beginning, you need to give them content that spikes interest and engagement. You want to encourage conversations, make sure you're responding and joining in. Most importantly, you need to create that feeling of community/belonging.
A devoted community will generate repeat business and bring in new leads.
Influencer marketing
As we mentioned earlier, social media communities are essentially the modern-day word of mouth. Word of mouth marketing is a huge trend for 2020 and it's one that benefits both the brand and the consumer.
Building a community allows you to engage with social media influencers or micro-influencers who are advocates of your brand. In turn, they will give honest reviews or recommendations of your product or service to their followers, which generates new leads and followers.
What are social media influencers?
Bloggers, vloggers, and social media stars are classed as social media influencers because they have influence over their audiences. An influencer can only have influence if their audience is engaged with their content, which is why they're perfect for partnering with brands. One case study found that one in three consumers trusts an influencer's words over what a brand says, so it makes sense to let someone else share how great they think you are. This way you can use your channels more effectively.
Social media influencers have been in the game a while now when it comes to social media marketing strategies. They have proven to be invaluable to businesses building brand awareness. Based on Mediakix data, Business Insider Intelligence estimates that brands are set to spend up to $15 billion on influencer marketing by 2022.
The key thing to note here is that it's not just the celebrities that have the influence. In fact, 61% of consumers trust the recommendations of friends and family over celebrity endorsements because they are more likely to be honest.
However, people do trust smaller influencers. Brands can tap into key influencers in almost any industry. We have micro and nano influencers, kidfluencers, gaming influencers, and virtual (computer-generated) influencers. The influencer market just continues to expand.
Choosing a social media influencer for your business
The key is to align yourself with an influencer who takes an organic approach and only partners with brands they truly believe in and support. Ideally they will already use your products or services. You want it to be a genuine recommendation not a sales pitch.
Influencers who promote in every other post lose their authenticity and are far less effective.
Social media has become more than just a means of communication. It has become an essential partner in shopping, and as e-commerce and social media converge, influencers will become increasingly essential intermediaries, to help brands connect with their audience on social media in an authentic and effective way.
Our point here…
A marketer who isn't thinking about how to create a community or network effect—where you build authentic relationships among the people who follow you or are loyal to your brand—then you're absolutely doing yourself a disservice. You're probably also spending more money on marketing than you would if you were creating a brand community.
An effective way to implement this social media marketing strategy is to take on nano or micro-influencers as brand ambassadors. A brand ambassador is an essential advocate of your brand which means they will share posts, engage with your audience, and join in conversations around your brand. It's these authentic conversations that are more likely to influence an audience and deliver results.
Influencer marketing creates positive brand sentiment, it initiates conversation around your brand and it provides honest insights into consumers' buying behaviour and pain points. This allows you to improve your customer experience overall.
Alternative platforms stealing the limelight
The core platforms being used haven't changed too much in the last few years with Facebook, Twitter and Instagram taking the lead when it comes to B2C marketing, with LinkedIn also being important for B2B companies.
However, as is human nature we are slowly becoming bored of these platforms. This makes it even harder for brands to achieve positive increase in organic reach and engagement.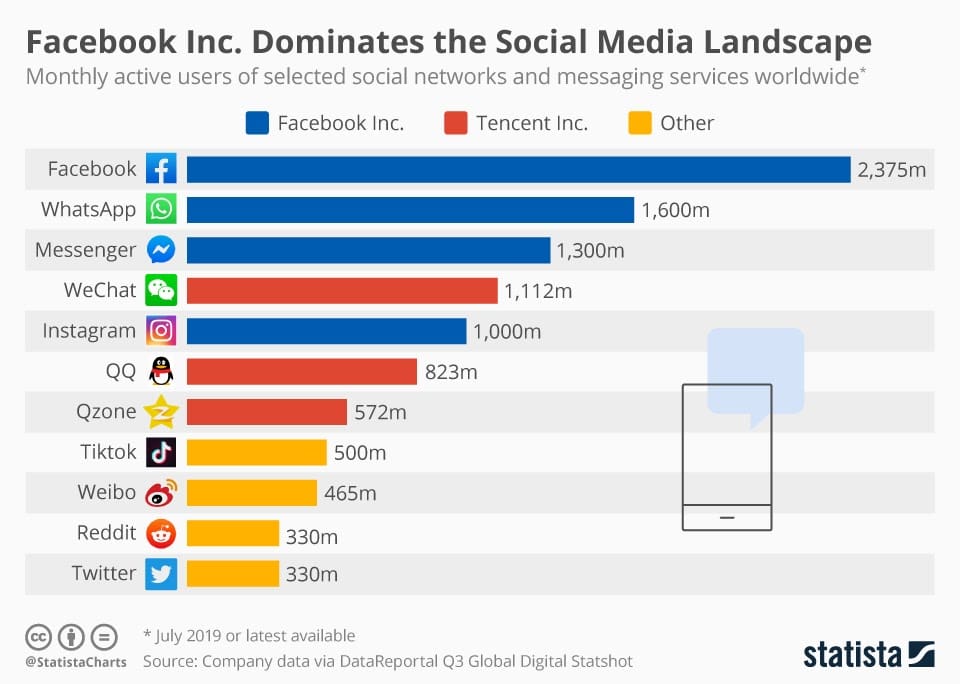 Although still top of the charts, Facebook has seen a huge drop in users – especially younger users – over the last couple of years. Younger audiences now preferring alternative platforms such as TikTok.
Another impacting factor is the pay-to-play format of social media channels, brands are no longer seeing the results on these platforms that they once did.
What is TikTok?
TikTok is currently one of the most popular social media apps trending among younger audiences and its popularity and marketing influence is continuing to grow. A short-form video platform, TikTok has over 1 billion all-time downloads.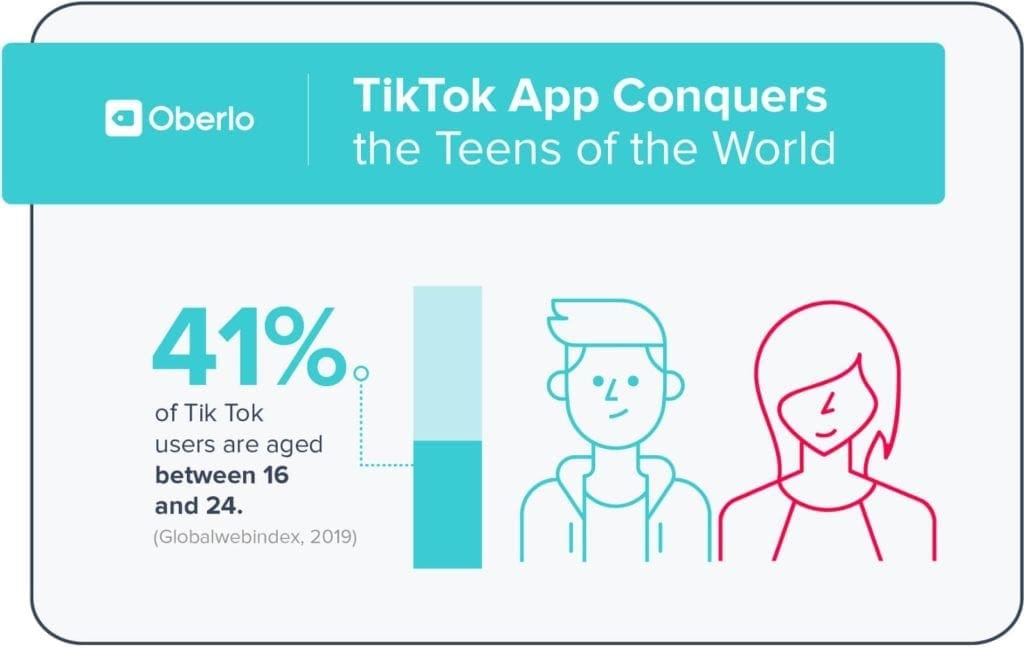 While TikTok may not be as effective for B2B brands, B2C companies with a younger target audience should probably start to pay attention. Another social media platform that's worth considering as an e-commerce business is Pinterest. Again, not a new platform but it has had somewhat of a resurgence of late and is no longer saved for home and wedding inspo. More than 250 million people use Pinterest every month, and this number will increase.
Why the resurgence?
Not surprisingly, it's the perfect platform for the e-commerce space as users can visually engage with products. Pinterest recently published figures which showed 75% of Pinterest users are "very interested" in new products in comparison to just 55% of people on other social media platforms.
And the proof is in the pudding. Retailers are reporting 2x higher returns on ad spend from Pinterest than other social media platforms.
Understanding and using alternative social media platforms gives you the opportunity to reach audiences that may not hang out on Facebook, Instagram or Twitter. It also forces you into new ways of being creative with your content and alternative avenues of engagement with your audience.
Social media as customer service
Good customer service will never go out of fashion. But our consumer expectations have definitely adapted with the increased use of social media. Perhaps one of the biggest changes, or the one that's had the biggest impact, is that customer service is now visible for everyone to see. This makes it more important than ever to get it right.
On the flip side of modern day word of mouth marketing, customer complaints are there for everyone to see, along with customer reviews. The way and the time in which you respond to these can make or break for your brand. We live in an age where the expectation is 24-hour customer service, so that's what has to be delivered.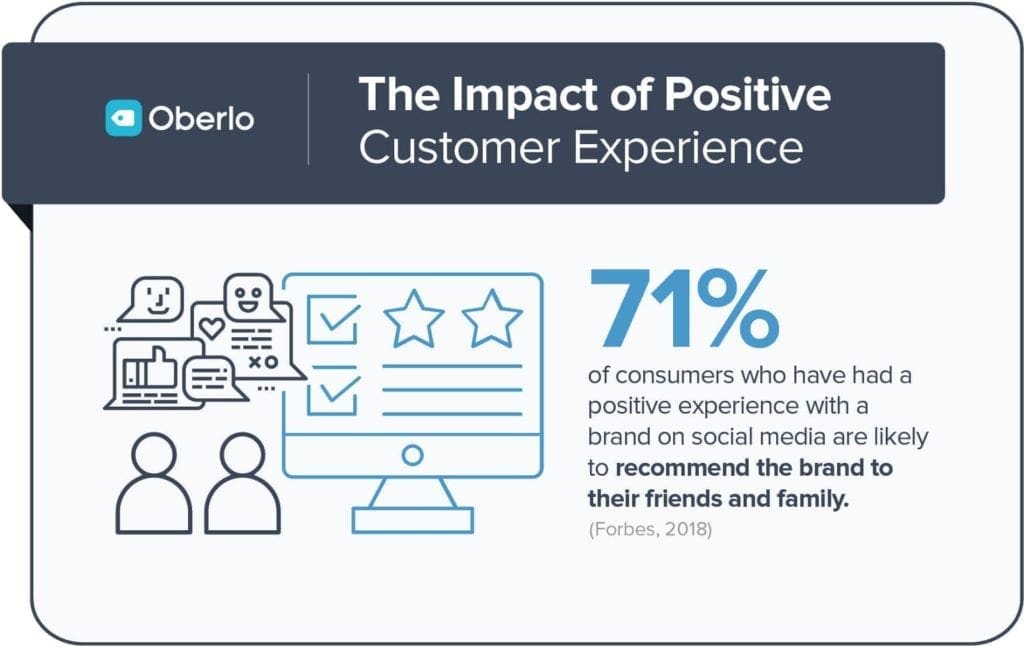 According to Smart Insights, over a quarter (28%) of consumers have used social media to communicate with a company in the last twelve months. Consumers look for anything that makes their life easier and being able to get in touch via social media couldn't be more convenient. Unsurprisingly, consumers also believe that they are more likely to get a quick and positive response than if they use alternative communication methods such as email.
And the stats confirm this, with 80% of customers expecting companies to respond to their social media posts within a 24 hour period. In fact, 50% of customers say they wouldn't use a company again if it failed to respond to a negative social media post.
How does social media customer service benefit a business?
2020 is likely to see more brands embracing social media customer service. But, not only because it offers better customer experience and people have come to expect it, but because it makes sense for businesses too. It goes hand in hand with building a social media community. So why should you have a social media marketing strategy that supports customer service too?
Social media is a convenient method of contact for the consumer, but it can be just as convenient for a company too. Social media offers a quick means of dealing with any issue, and as we've seen from the stats, a timely response is essential. Simply by answering a customer complaint, you can increase customer advocacy up to 25%.
Social media makes it easier to turn an unhappy customer into a return customer. They are also more likely to talk about the positive experience they had and how quickly you resolve their issue.
Of course, there's the other side of the coin. Not responding to a customer in a timeframe they deem acceptable can not only cost you the customer, but it can also get you a bad reputation, which can travel very quickly. A strong social media strategy for customer services is essential in 2020.
Social media Stories
One of the biggest social media trends of the last decade has been Stories. Snapchat were the first to introduce Stories way back in 2013, but since then Instagram, Youtube and Facebook have jumped on board, and all with great success.
Instagram alone has 500 million daily active Stories users worldwide. Just let that number sink in a minute.
Why are Stories so successful?
Social media Stories offer a different user experience to the general feed. The feed is "permanent," whereas Stories are momentary. People can share more moments without it being something permanently visible on their feed. Perfectly curated photos day after day becomes arduous, and even with the best will in the world you know it's not the 'real world'.
People want the full story…Stories allow users to connect on a more authentic, personal level. They allow people to get to know the real person or brand persona, which makes them much more engaging. That's exactly why businesses have been using Stories more and more in their social media marketing strategy.
In 2019, Hootsuite's social media trend survey showed 64% of marketers have either already implemented Instagram Stories into their social media strategy or intend to do so in the next year.
That brings us to 2020, which means the time is now to get on board with Stories if you haven't already. With its unique visual storytelling capabilities and unparallelled conversion methods, marketers in any industry with any audience can make the most of it.
How often should a business post Stories?
Generally, a social media marketing trend is that brands are posting about 7 days per month. This averages to approximately one every four days (regardless of their audience size or following).
On deeper analysis, data revealed that brands with more than 100k followers are posting Stories more regularly, around every two days compared to four days for brands with at least 10k followers.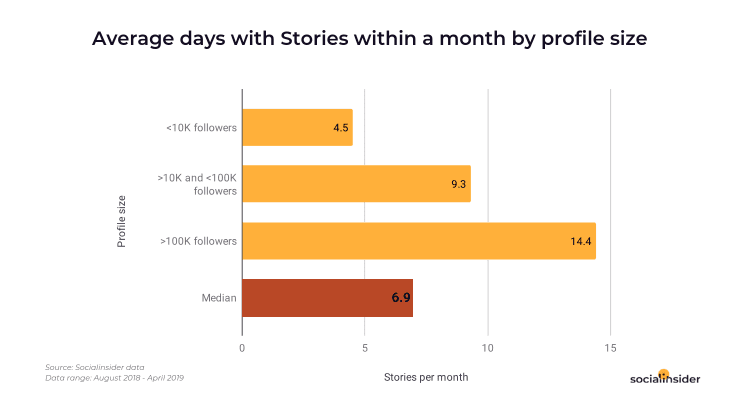 Brands are increasingly using Stories for advertising too, which suggests this is where they're seeing the best ROI. Advertising within Stories is definitely one to watch in 2020.
How to plan Stories for business?
Posting regularly on Instagram Stories is key to boosting your audience and increasing your views. The great thing is you can plan your Stories just like you would plan any other social media post in your social media content calendar.
Planning your regular feed content at the same time as your Story content will help ensure your content is on brand, cohesive and clear.
Instagram Stories is quickly becoming one of the best channels to drive engagement, build brand awareness, drive traffic, and convert leads. If you haven't started with Instagram Stories for business yet, 2020 is the year to do it.
To Conclude | Social Media Marketing Trends
With so many areas of advertising and digital marketing, there will always be a huge number of changes to try and keep up with. And out of all of the different facets of digital marketing activity, social media has some of the most drastic changes, with immediate results. It's your job to stay ahead of the social media trends and utilise these changes to your marketing advantage.
A multi-channel approach with a key focus on engagement is a great focus, but make sure you analyse your performance and be prepared to adapt with your users and the platforms themselves.
2020 will be won by marketers who are creative, up to date and authentic with their social media marketing strategy. Brands should continue to use social platforms as they have been, but should also work towards building a community that increases and engages with followers. By doing so you have access to all the data you need to optimise user experience. After all, user experience is the key to success.
To start developing your social media marketing strategy, contact AIM Internet today on 0870 062 8760.